8Pack


Asteroid - Intel Core i7 8700K @ 5.1GHz DDR4 Extreme Overclocked PC
8Pack's latest LAN gaming creation. A smaller more portable HD gaming solution with custom chassis and transport case included.
Free shipping 3
Built To Order
Stock Code: FS-004-8P
EAN: 00000000
MPN: FS-004-8P
Manufacturer: 8Pack
Supported by the biggest tech community forums.overclockers.co.uk
Direct Service Hotline
+44 (0)1782 44 44 55
Product information:
Asteroid - Intel Core i7 8700K @ 5.1GHz DDR4 Extreme Overclocked PC
8Pack, the UK's number 1 ranked extreme overclocker would like to introduce you to his new range of extreme performance PCs. Working closely with most of the world's leading motherboard and memory manufacturers to help improve their product performance, 8Pack uses his expertise to challenge for new performance world records on an almost daily basis; and now he brings this expertise to Overclockers UK to develop and build the most extreme performance PCs on the planet!
Obviously, creating a PC to live up to 8Pack's monumental standards is a time consuming, arduous task. Every 8Pack PC is hand-built, from the ground up by OcUK's top ranked master builder to 8Pack's exacting specifications and tuned by 8Pack himself to its own stable maximum so no two are identical, thus creating a truly bespoke system with prodigious performance.
8Pack doesn't blind you with headline figures that have little relevance in the real world. Efficiency is his watchword, a rallying cry with which he drives for more and more performance. Bigger is not always better! Three can be faster than four! No unnecessary bloat! 8Pack takes the most efficient combination of cherry picked components and tunes each of them to their peak, thus establishing a harmonious balance. This is why he is renowned as one of the world's best overclockers and why his systems are the zenith of performance.
The process of building an 8Pack PC starts with the careful selection of components. By rigorously testing different processors and memory for maximum speed & stability, 8Pack ensures that only the best components make the final cut. The processor, for example, is one of hundreds which 8Pack has personally tested. Only those processors with both a top end clock speed and integrated memory controller powerful enough to challenge for world overclocking records are selected.
The components are tested in prospective motherboards to ensure synergy and BIOS support. These attributes make a large difference to the overall integrity and performance of the system.
Overclockers UK and 8Pack offer the option for you to customise the look of your system. We are able to provide a high quality, industrial grade, powder coating service for the outer shell of your case and we offer a range of colour combinations for the watercooling fluids and fittings to choose from. This is yet another way to ensure that your system is uniquely tailored to your own tastes.
Why You Should Buy This System
The Asteroid was designed to be the ultimate HD LAN gaming PC. Portable and eye-catching, this graphical pocket rocket employs the powerhouse GTX 1080Ti graphics card, overclocked and water cooled to give impactful visual performance whilst remaining quiet and cool. In any location, in any game, the Asteroid will enable you to dominate the competition. In addition to the system itself, to aid portability, the system come with a custom flight case.
The system uses an Asus Asus ROG Strix Z370I motherboard, the ultimate in compact gaming boards, featuring a high quality dedicated headphone amplifier. At the heart we have an Overclocked Kabylake Core i7 8700K Six Core CPU which is the current gamers' choice due to its efficient architecture and very strong memory controller. This is paired with the insane Team Group 4000MHz 8Pack edition DDR4 memory which aesthetically matches the exciting Asus Impact motherboard and gives the CPU all the memory bandwidth needed to decimate all the competition.
This system is housed in a custom designed Parvum Cube case, with integrated reservoir and fluid flow tracks. This stunning chassis has sufficient airflow to allow the fan speed and thus noise can be kept very low. Each set of radiator fans can be controlled through software in Windows so the balance of cooling and noise can be adjusted for different scenarios.
Storage is provided by a pair of ultra-fast Samsung 860 Evo solid state drives, a 500GB primary drive for your operating system and applications with a 1TB secondary for your game collection.
- Hand built OcUK's Top Ranked Master Builder and tuned by the World's Number 1 Overclocker.
- Each 8Pack system is individually numbered and signed.
- Customisable colours and flexible specification which you can discuss with 8Pack prior to ordering.
- Dedicated aftersales support from 8Pack himself.
- Specialist delivery and installation.
- A truly bespoke extreme performance PC for those who demand the absolute best!
Specifications
CPU
Intel Core i7 8700K Hyperthreaded Six Core Processor with maximum possible stable overclock
(5.1GHz Minimum) with EK Supremacy CPU Waterblock
Motherboard
Asus ROG Strix Z370I Motherboard
Memory
16GB (2x8GB) Team Group DDR4 4000MHz Memory
Graphics
Nvidia GeForce GTX 1080Ti 11GB GDDR5 Graphics Card
Fitted with EK Full Cover Waterblocks and Overclocked to maximum stable overclock.
Primary Storage
1x 500GB Samsung 860 Evo Series Solid State Drive configured as primary (operating system) hard drive 1x 1TB Samsung 860 Evo Series Solid State Drive configured as secondary (game) hard drive
Power Supply
80+ Titanium 850W Power supply with custom braided cables
Case
Custom Parvum Mini ITX Cube Case - Black/Red
Cooling
Custom Loop Watercooling Configuration
Options
Watercooling Fittings and Fluid Colours
Custom Cable Braiding Colours
** To discuss options please contact us prior to ordering **
Warranty
3 Year Collect and Return Warranty - UK Mainland
* Each system is manually tuned by 8Pack himself, the components are specially selected and tuned to their maximum stable limit.

* The system specification can be modified upon request. You can discuss your purchase with 8Pack himself to ensure that you get the absolute best system possible.

* 8Pack systems can be customised to suit your taste. We can offer:
- A wide selection of watercooling fittings and fluid colours to enable you to create a truly unique system of your dreams!
- A Custom PSU cable braiding service. By default, the braiding will match the standard colour scheme of the system but a veritable rainbow of colours is available for you to choose from
Please discuss these options before purchase.
* Please note - Due to 8Pack work commitments the minimum lead time for these systems is 21 working days. We will always endeavour to meet this deadline but at busy times delays may occur. We will keep you informed of the system build progress.
** World #1 Ranking accurate as of January 2015
More links for

"Asteroid - Intel Core i7 8700K @ 5.1GHz DDR4 Extreme Overclocked PC"
Free items with this product worth £149.95!
Intel
Intel Starter Pack - Battlefield 1, Paladins & PUBG Plus Exclusive In Game Content
OcUK TV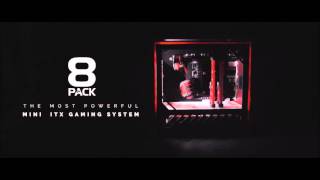 Awards & Media Coverage
"Ultimately if you've got deep pockets and are looking for a fantastic compact gaming system, and certainly don't want the hassle of assembling it yourself, then OCUK has you covered. Nonetheless, even an experienced PC builder can appreciate the craftsmanship that has gone into the 8Pack Asteroid."

Award

Custom PC - Extreme Ultra

"If you want one of the most customised PCs available today, though, and your priorities are low noise, great looks, fast gaming performance and a small chassis, your choices don't come much better than the Asteroid."

"The Asteroid is one of the best PCs I've ever seen. It's a small and impeccably-designed rig with enough power to cope with any gaming scenario, from 4K and demanding graphics options to widescreen and VR."

Award
Customers also purchased: