8Pack


OrionX2 Dual System Extreme Overclocked PC - Intel Core i9 10980XE & Intel Core i7 10700K
Intel Core i9 10980XE @ 4.6GHz & Intel Core i7 10700K @ 5.0GHz! THREE Nvidia RTX 3090s...Two PCs - One insane system!
**Built To Order - This system is highly complex and contains custom made parts - Please refer to the description for lead time**
Free shipping 3
Built To Order
Stock Code: FS-006-8P
EAN: 00000000
MPN: FS-006-8P
Manufacturer: 8Pack
Supported by the biggest tech community overclockers.co.uk/forums
Direct Service Hotline
+44 (0)1782 44 44 55
Product information:
OrionX2 Dual System Extreme Overclocked PC - Intel Core i9 10980XE & Intel Core i7 10700K
The 8Pack series comprises the absolute pinnacle of complete PC systems, replete with ultra high-end equipment and designed by the number 1 worldwide overclocking champion, the multi-world record holder Ian "8Pack" Parry. With a knack for electronics and a steady hand this Englishman, backed by a team of experienced professionals at Overclockers UK, created every one of these systems bearing his name from the ground up, and thus the ultimate in premium overclocked systems came to be.

The process of planning and building a genuine 8Pack PC is a long and arduous one, at the end of which stands a truly tailor-made supercomputer. The combination of hand-picked components and years of experience at the summit of the overclocking scene enables 8Pack to build monumental computers that surpass any and all standards. An unparalleled level of craftsmanship and design is combined with truly outstanding performance to forge something that has never before been seen in the market of system integration. The 8Pack range is made for extreme enthusiasts craving the ultimate in power and the requisite craftsmanship that only Overclockers UK can provide.

The 8Pack system going by the name of the OrionX was originally designed for Computex 2016 for the sole purpose of astonishing every PC hardware enthusiast and presenting the best in the world in terms of design and performance. With high-performance components sourced from premium manufacturers such as ASUS, Phanteks, NVIDIA, Intel and many more, 8Pack has been a true highlight - and the OrionX itself has attracted a great deal of attention on YouTube as well as within the IT industry, but last and not least, by Forbes Online as they decreed the OrionX as the single best system at Computex. The OrionX2 now enters the fold with updated components and a whole new level of power.
OrionX2 - The Quietest & Most Powerful System Ever Created!
To help ensure that the 8Pack OrionX2 Extreme Overclocking System becomes the brightest star in the universe, 8Pack has chosen only the finest components from a wide range of premium manufacturers. The base upon which the OrionX2 is founded is, of course, on the Phanteks Enthoo Elite which in addition to its outstanding design, stylish RGB LED lighting and a large side door made of tinted hard glass, offers an enormous amount of space for high-end hardware and a multitude of modifications to house the triple custom water cooling loop.
8Pack OrionX Dual-Mega PC: E-ATX Primary System
This space is also definitely needed, because as 8Pack fits two extreme overclocked PCs into the OrionX2 there is no room for compromises in performance. The main system therefore uses an ASUS Rampage VI Extreme Encore Edition E-ATX motherboard with an X299 chipset to accommodate a Intel Core i9-10980XE 18 core processor from Intel's "Cascade Lake" generation, which is then overclocked to a minimum of 4.6 GHz. This extreme CPU is paired with a choice of three NVIDIA RTX 3090 Ampere graphics cards running independently, ideal for rendering, or two NVIDIA RTX 3090 Ampere graphics cards connected via NV-Link, ideal for gaming. The RTX 3090 cards carry a massive 24GB GDDR6X VRAM to ensure unbeatable pixel-pushing, ray-tracing power and thus establishing itself as the ultimate in gaming hardware. In addition, 128 GB DDR4 RAM from Corsair is provided. Consisting of four sticks and clocked at 3600MHz apiece, it certainly provides an epic amount of bandwidth. Furthermore, the E-ATX system provides a 2.0 TB Intel 970 Evo M.2 NVMe SSD bringing truly galactic levels of speed to the system's Primary drive. This is then backed up another 2.0 TB Intel 970 Evo M.2 NVMe SSD as well as a Seagate Ironwolf Pro HDD with a full 14 TB of storage.
8Pack OrionX Dual-Mega PC: Mini-ITX Secondary System
The vision behind the Mini-ITX system originally emerged from considering the installation of a file, media or game server as a secondary system. However, as anyone who knows anything about 8Pack will attest, only the very pinnacle of high-end components can earn a place in his system. For that reason the ASUS ROG Strix Z490I Gaming Mini-ITX motherboard runs a generously overclocked 5.0 GHz Intel Core i7-10700K CPU from Intel's 10th generation Comet Lake series. Furthermore an NVIDIA RTX 3090 provides an appropriately superlative degree of graphical acceleration and enables problem-free 4K gaming. 32 GB Team Group DDR4 RAM, from our own 8 Pack special edition memory series two Samsung 970 Evo M.2 NVMe SSDs with 2TB storage each in a RAID 0 configuration and a 14 TB Seagate Ironwolf Pro HDD all help to make the system into the full package.
Triple Custom Watercooling Loop with Massive Cooling Performance
The installation of such a number of high-end components, all of which have been overclocked to their limits, naturally demands a correspondingly powerful system of cooling. For this reason 8Pack has designed probably the most complex and efficient custom watercooling systems ever installed in a PC. A total of three independent loops are responsible for cooling, all of which are managed by their own Aquaero 6 from Aqua Computer, thereby enabling them to be conveniently controlled. The CPU as well as the NVMe drive of the E-ATX system are cooled by a 480 mm radiator as well as a 360 mm radiator. Visually, these two loops can be recognised by their grey and silver liquid coolant. The CPU of the Mini-ITX system on the other hand is cooled by a 360 mm radiator, the loop of which can be identified by its red coolant. The uniqueness of this water cooling setup, however, undoubtedly lies in the unusual design as 8Pack - apart from utilising premium components from EK Water Blocks, Aqua Computer and Mayhem - has also designed his own unique components especially for the OrionX2. For this reason the liquid coolants are guided through the whole system thanks to various custom acrylic plates, ultimately presenting themselves in the large reservoir in the shape of the 8Pack logo where all the liquid coolants and pumps finally come together. An absolutely unique show which is unrivalled in every respect including not only design and performance but also for its extremely quiet functioning.

Both systems are driven with the assistance of a power splitter from the 8Pack Edition Super Flower Leadex power supply that, given its full 2.000 Watt capacity, certainly has plenty of reserves to call upon, and thanks to its 80Plus Platinum Certification functions efficiently as well. Despite the amount of cabling that goes into the system, thanks to the high-quality cables hand-sleeved by Pexon in the UK there is no effect on the visual presentation of the system as they are optimally installed and colour coded to fit in perfectly with the rest of the system. Perfection deserves an audience, and that's why several BitFenix Alchemy 2.0 LED strips provide custom lighting and offer convenient and custom control over both systems.
Custom Build Case from Phanteks with 8Pack Logo & Flightcase!
To allow the "8Pack OrionX2" Extreme OC gaming PC to be immediately recognised as a masterpiece from the hand of Ian "8Pack" Parry, it must differentiate itself from Phanteks "normal" cases. This is primarily achieved through the extraordinary custom water loop, that connects three independent cooling loops and filters the liquids through specially made acrylic components adorned with the 8Pack logo. As if that distinguishing feature were not enough, the stylish red, silver and grey coolant flowing through the veins flowing through the "OrionX2" give one additional clue that you stand before something very special.

The innards of this enormous gaming monster, visible through the huge window in the left side panel, is colour-coded thanks to the premium Pexon sleeving in black, grey and red with the 8Pack fan grills. A plaque with 8Pack's signature and logo takes the envy factor of the "OrionX2" a step further, and the system itself is delivered in a stylish flight case to ensure absolutely secure transport from A to B. The specially designed flightcase is also equipped with the 8Pack logo and is specifically used for the transport of the overclocking monster.
Technical Details (Primary System):
Specially customised Phanteks Elite Full-Tower with integrated reservoirs and 8Pack logos
Cool interior with LED lighting, cable sleeving and coloured liquid coolant
Custom watercooling with EKWB components and three independent custom loops
Custom OC & water cooled Intel Core i9-10980XE (Cascade Lake) with 18 Cores (36 Threads!!), 24.75 MB L3 Cache and OC @ min. 4.6 GHz
ASUS ROG Rampage 6 Extreme Encore Mainboard (E-ATX) with Intel X299 chipset and LGA 2066/li>
Two water cooled NVIDIA RTX 3090 with 24GB GDDR6X VRAM connected in NV-Link for incredible gaming graphical performance, or three water cooled NVIDIA RTX 3090 run independently for computational/rendering operation.
Faster and more efficient DDR4-RAM with 128 GB capacity and 3600 MHz clock frequency or 64GB running at 3600MHz
2TB Samsung 970 Evo NVMe-SSD as the primary storage device
2TB Samsung 970 Evo NVMe-SSD as the secondary data storage
Huge 14 TB Seagate HDD for tertiary data storage
2.000 Watt Super Flower Leadex 8Pack Edition Power supply with extreme performance & 8Plus Platinum efficiency
Perfectly applied Thermal Grizzly Hydronaut thermal compound
Additional: Comes with Windows 10 Professional pre-installed
Technical Details (Secondary System):
Custom water cooled Intel Core i7-10700K (Comet Lake) with 8 cores, 16 MB L3 Cache, and overclocked to at least 5.0 GHz.
ASUS ROG Strix Z490I Gaming Motherboard (Mini-ITX)
Rapid DDR4-RAM with 32GB capacity at an unbelievable 3600 MHz clock frequency
Exceptional graphics card: NVIDIA RTX 3090 with 24GB GDDR6X VRAM
Two lightning-quick and reliable Samsung 970 Evo M.2 NVMe SSDs with 2TB, configured in RAID 0 as the primary storage devices
A huge 14 TB capacity Samsung HDD for secondary storage
Additional: Comes with Windows 10 Professional pre-installed
Customisable Down to the Last Detail - Together With 8Pack - Please call our Prestige Systems Advisor on 01782 940193 to discuss options and they will be happy to help.

* Each system is manually tuned by 8Pack himself, the components are specially selected and tuned to their maximum stable limit.

* 8Pack systems can be customised to suit your taste. We can offer:
- A wide selection of watercooling fittings and fluid colours to enable you to create a truly unique system of your dreams!
- A Custom PSU cable braiding service. By default, the braiding will match the standard colour scheme of the system but a vertiable rainbow of colours is avaialble for you to choose from
Please discuss these options before purchase.

* Please note - Due to 8Pack work commitments and build complexity, the minimum lead time for these systems is 42 working days. We will always endevour to meet this deadline but at busy times delays may occur. We will keep you informed of the system build progress.
More links for

"OrionX2 Dual System Extreme Overclocked PC - Intel Core i9 10980XE & Intel Core i7 10700K"
OcUK TV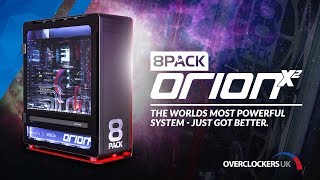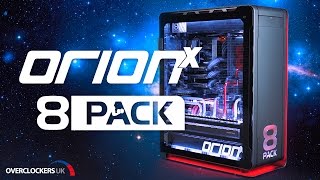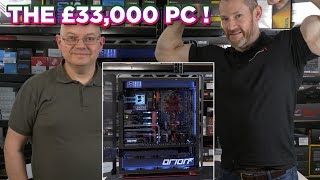 Customers also purchased: