8Pack


Xtreme Asus ROG Strix X470-F AMD Ryzen 7 3700x @ 4.2GHz - Overclocked Ryzen Bundle
Built by our Elite Tier overclocker Ian 8Pack Parry this bundle was designed and produced to give you the ultimate upgrade option.
Stock Code: BU-00D-8P
EAN: 00000000
MPN: BU-00D-8P
Manufacturer: 8Pack
Supported by the biggest tech community forums.overclockers.co.uk
Direct Service Hotline
+44 (0)1782 44 44 55
Product information:
Xtreme Asus ROG Strix X470-F AMD Ryzen 7 3700x @ 4.2GHz - Overclocked Ryzen Bundle
INTRODUCING THE ULTIMATE UPGRADE SOLUTION
Designed and tested by the world's #1 overclocker, Ian (8Pack) Parry, the 8Pack Xtreme Bundle is designed to offer the ultimate upgrade solution. We use hand-picked processors so that we can provide a 24/7 stable overclock even at this ludicrous speed of 4.2GHz. We pair this with the superb Asus ROG Strix X470-F Motherboard with 16GB of insanely fast 3600Mhz Teamgroup DDR4 memory to make your rig ultra-responsive. To keep the blazingly fast CPU cool, we have selected a range of watercooling kits to help combat the extra heat and keep your bundle running at optimal temperatures. Each bundle is personally overclocked and tested by Ian (8Pack) Parry.
Why Should You Buy This Bundle?
- Pre built and configured - Built by our expert technicians and tested to ensure maximum stability, this means all you have to do when you get the bundle is simply plug and play!

- 16GB of 3600Mhz Teamgroup memory with alternative options available - Giving you plenty of bandwidth for both gaming and professional applications.
- Pre overclocked for your convenience! - No need to worry about multipliers and voltages, 8Pack overclocks the bundle to a rock solid 4.2GHz!

- Protected by our superb 3 year support package! - As enthusiasts, Overclockers UK know just how disappointing it is when something happens to your rig, especially if you are in the middle of a game. Luckily we provide a 3 year warranty (36 months collect and return) and support via phone, webnote or forum to ensure we get you back up and running as quickly as possible.
Technical Details:
| | |
| --- | --- |
| Processor | Ryzen 7 Eight Core 3700x (Socket AM4) Processor Overclocked to 4.2GHz to give you a huge performance boost. |
| Motherboard | Asus ROG Strix X470-F (Socket AM4) DDR4 ATX Motherboard |
| Memory | Up to 32GB of 3600Mhz Teamgroup memory DDR4 Memory |
| CPU Cooler | We have a selection of watercooling kits available from XSPC and OcUK Tech Labs, these include all you need to get your system up and running. |
Service Package

- 3 Year warranty (36 months collect and return)
- Each specification is assembled from handpicked components for compatibility and stability
- Telephone, web note and forum technical support
Notes to customer

Please allow 14 working days for your bundle to be built and configured. This may take longer during busier periods.
Overclockers UK recommend using a high quality power supply, such as the Superflower HX and Leadex range. Some of the CPU coolers and watercooling kits require a large amount of space and/or specific mounts on the case. Please ensure that your chassis is compatible before you purchase.

If you would like to make any changes to your bundle, please give our sales team a call on 01782 444455 and they can talk you through any changes.
More links for

"Xtreme Asus ROG Strix X470-F AMD Ryzen 7 3700x @ 4.2GHz - Overclocked Ryzen Bundle"
OcUK TV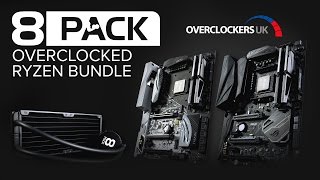 Customers also purchased: