ANTLION


Audio ModMic V5 Microphone - Unidirectional + Omni-Directional (GDL-0500)
Exceptional Audio
Quiet in an Instant
Modular and Flexible Design
Versatile and Portable
New Premium Materials
Stock Code: SP-047-AL
EAN: 0784682975121
MPN: GDL-0500
Manufacturer: ANTLION
Supported by the biggest tech community forums.overclockers.co.uk
Direct Service Hotline
+44 (0)1782 44 44 55
Product information:
Audio ModMic V5 Microphone - Unidirectional + Omni-Directional (GDL-0500)
"Keep Portland Weird!"
is the unofficial motto of the American hipster stronghold of Portland in the US state of Oregon, and this modding audio product is as unusual as it is innovative hailing from this alternative city packed full with creative people and ideas. But, you might say, modding and audio technology in a single product? In the rarefied realm of premium audio hardware this has been somewhat of a rarity - with one ingenious exception: the
AntLion Audio ModMic
microphone, attachable to headsets and headphones alike and whose Version 5 unifies and builds upon all the strengths of its predecessors.
The Features of the AntLion Audio ModMic V5:
Removable and fully-modular add-on microphone with magnetic clasp
Integrated uni- / omnidirectional dual-microphone capsule (on/off)
Unidirectional: Perfect environmental noise reduction in loud surroundings
Omnidirectional: Highly-sensitive studio-quality sound in quiet surroundings
Perfectly designed for multiplayer games, VoIP calls, streaming, podcasts and much more.
Includes 3,5 mm stereo cable (1 m & 2 m), 10 cable brackets & separate mute button
Further Accessories: practical carry case, two base grips & cable sleeve (2 m)
So you've just discovered your dream headphones, but a microphone is missing, or you already have your ideal gaming headset and the integrated microphone no longer performs (or sounds) as it should, what to do? In this instance switching over to a completely different brand of cans is easier said than done. No one wants to forfeit the perfect fit, that heavy bass, or the ingenious surround sound just because of the microphone. Prompted by gamers themselves as well as audiophiles everywhere, AntLion Audio has ventured forth with a solution.
The brand new V5 implementation of the boom microphone offers an integrated dual-microphone capsule with the ability to switch between uni- or omnidirectional sound modes and a 3,5 mm jack. The omnidirectional studio mode offers high sensitivity as well as a broad frequency range, thereby prioritising quality above all else, while the unidirectional mode enables improved noise-cancelling for use in louder surroundings.
Ingenious Magnetic Clasp with Two Base Clasps
The retrofitted
AntLion ModMic V5
is a technically advanced and premium addition to your favourite set of headphones or - equally - a premium supplement to an incomplete headset. Best of all, it is easily attached to the outer shell of your headphones by simply cleaning the intended area with the bundled alcohol wipe, then removing the protective layer from the rear of the base - it closely resembles a button - and then pressing it firmly onto the intended location. The bond will be sufficiently firm after waiting roughly an hour.
Now simply attach the magnetic microphone boom to the base clasp, adjust the swing arm to the right length, and connect the jack at the end of the cable with your PC. The ModMic can be folded 90 degrees up or down, and the boom itself is not only flexible, but also exceptionally adept at maintaining the form you settled on while adjusting it for the perfect fit. The process of removing the microphone is equally as simple due to its magnetism, simply keep the microphone itself on your metal PC case using the magnet or stow it safely away in the bundled carry case.
The total length of the provided microphone on the outer shell of your headphones is roughly 17,5 mm. The double-sided sticky pad on the base clasp is made by 3M and ensures that the ModMic V5 attaches perfectly to surfaces ranging from metal and plastic to even mesh surfaces. To allow the user to install the ModMic V5 on a second pair of headphones or re-attach it at a later point, AntLion Audio has provided a second base clasp and an additional 3M sticky pad in the bundle. A
mute button
for deactivating the microphone quickly is also contained within the bundle and can be used "inline" by integrating it between either the 2 m or 1 m cables provided.
Technical Details:
Position: Flexible (removable, swings 90 degrees)
Dual-Microphone Capsule (switchable):

1. Directional Design: Omnidirectional (noise-cancelling cardioid microphone)
Frequency Range: 30 Hz - 17,5 KHz
Sensitivity: -26 (+/- 3) dB(A)
Impedance: 2.200 Ohm
SNR: > 58+ dB(A)
2. Directional Design: Unidirectional (sensitive studio microphone)
Frequency range: 100 Hz - 10 KHz
Sensitivity: -38 (+/- 3) dB(A)
Impedance: 2.200 Ohm
SNR: > 50+ dB(A)

Dimensions:
Boom length: 175 mm
Diameter of base clasp: 12,7 mm
Total distance to headphone: approx. 17,5 mm
Connector:
Cable length: 2 m & 1 m
Cable diameter: 2,5 mm
Bundled:
1x ModMic V5 omni & unidirectional
1x Mute switch
2x Cable (1 m & 2 m length)
1x Cable sleeve (2m length)
2x Base clasp (for headsets/headphones)
1x Support (for ModMic)
1x Additional double-sided 3M adhesive pad
1x Alcohol wipe
1x Instruction manual


More links for

"Audio ModMic V5 Microphone - Unidirectional + Omni-Directional (GDL-0500)"
OcUK TV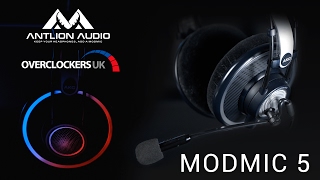 Customers also purchased: