Aorus


X3 Plus v7-CF1 NVIDIA 1060 6GB GDDR5,13.9" IGZO QHD+ LED, Intel Core i7-7820HK Gaming Laptop
Aorus X3 Plus v7-CF1
13.9" IGZO QHD+ 3200x1800
i7 7820HK
NVIDIA GTX 1060 6GB GDDR5
512GB M.2 PCIe SSD
16GB 2400MHz DDR4
Windows 10 Home (64-Bit)
2yr Warranty
Stock Code: LT-02K-AU
EAN: 4719331934583
MPN: X3 Plus v7-CF1
Manufacturer: Aorus
Supported by the biggest tech community forums.overclockers.co.uk
Direct Service Hotline
+44 (0)1782 44 44 55
Product information:
X3 Plus v7-CF1 NVIDIA 1060 6GB GDDR5,13.9" IGZO QHD+ LED, Intel Core i7-7820HK Gaming Laptop
NVIDIA® GeForce® GTX 1060: The Ultimate Performance
The new NVIDIA® GeForce® GTX 10 series GPU features the latest Pascal™ architecture, breaking the limits of laptop performance. The new GPU delivers not only the ultimate performance and efficiency, but also easily provides an immersive Virtual Reality (VR) experience and smooth high-res gameplay. Hardcore gamers can now possess over-the-top performance on the mobile platform with crystal clear, captivating motion graphics, and jaw-dropping visuals.
7th Gen Intel® Core™ i7 Processor : Here Comes the New Generation of Performance
With the latest "Kaby Lake" architecture, the 7th Generation Intel® Core™ i7 Processor outperforms its predecessor in every aspect. Added with HEVC10b and VP9 decoding for that extra 4K playback smoothness. AORUS further presents one click overclocking ability that increases your CPU speed from 3.9Ghz to 4.3Ghz. Experience seamless next generation gaming performance!
QHD+ Resolution: Astonishing Level of Detail
AORUS is never afraid to explore new horizons. X3 Plus boasts a QHD+ display with 3200 x 1800 resolution providing stunning and breathtaking picture quality that pushes gaming experience to a new level. The extraordinary high luminance, 400 cd/m2, proves excellent clarity and readability even outdoors!
IGZO Panel for Breathtaking Detail
X3 Plus employs the latest and best IGZO-TFT (Indium gallium zinc oxide) panel, a low-power yet high-performance display that minimizes color shift, proving gorgeous image with crystal clarity. Packing 5.76 million pixels into a 13.9-inch frame results in an astonishingly vibrant viewing experience.
Wide View 170 Degree - Crystal Clear Image
The extremely wide viewing angle display offers a consistent natural color and contrast ratio from any angle within 170 degrees, vertically and horizontally. Perfect for showcasing your gaming moves, a movie night or even sharing a presentation - everyone gets the full visual experience.
M.2 PCIe SSD – The Next Storage Revolution
Perfected PCI Express SSD technology with the next generation form factor, M.2 is like a breath of fresh air to storage performance with its mind blowing speed! With a single drive reaching 2000 MB/s, game loading and system booting all happen in the blink of an eye. Being 4x faster than any traditional SATA SSD, the benefits are obvious: the faster it is, the better it is.
DDR4 RAM: Ultimate Memory for Ultimate Gaming
DDR4 RAM is a must have for any hardcore gamer. At a frequency of 2400 MHz, it runs high-resolution games faster and smoother than ever before. Not to mention with a single stick of DDR4, you can have a max capacity of 16GB, double that of DDR3. The X3 Plus v7 houses 2 of these, reaching a maximum memory storage of 32GB. Using less power at only 1.2v, DDR4 in turn generates less heat in your machine, possessing the trifecta required of RAM for the ultimate gaming experience!
HDMI 2.0: True 4K Ultra HD
The incorporation of HDMI 2.0 brings screen resolution to the next level. Unlike HDMI 1.4 which only supports 8-bit color up to 30 frames per second, HDMI 2.0 display is truly breathtaking. Supporting up to 18 Gbps transfer, the true potential of 4K resolution is realized through 12-bit color and up to 60Hz refresh rate! See videos, photos, and games how they were meant to be seen, in true high definition!
*Requires HDCP 2.2 supported monitors
USB 3.1 Type-C – Quality of Life Upgraded
It is common to turn a USB a few times before it fits. But those days are over with USB 3.1 Type-C! The Type-C connector is universal, making connecting via USB no long a chore. Not only is it easier to connect, it's fast. USB 3.1 has twice the throughput of USB 3.0, transferring 100GB video in as little as 80 seconds. Through greatly improved data transfer speed and pluggability, USB 3.1 Type-C puts a focus on the improvement of quality of life for a gamer's daily routine!
Super Thin & Lightweight: A Gaming Milestone
The power beyond imagination is accompanied by its subtle yet elegant frame and design. Squeezing such superior performance into a chassis less than 0.9 inch takes extraordinary expertise and industry-leading thermal know-how. Get your hands on this ultimate gaming flagship to find out the top-tier craftsmanship.
Full Aluminum Chassis with Iconic Design
AORUS X3 Plus blends minimalism and fluidic sculpture. The signature theme of the stunning chassis emphasizes a style that the aerodynamic streamlines connect expanded vents, giving the ultimate gaming flagship a breath of speed. The flowing sculpted lines and quality matte black are scented with understated luxury without losing its original aggression.
Extreme Battery Life, Mobility Extended
Maximum performance should not come at the cost of battery life. Packing an astonishing 94.24Wh battery, the ARUOS X3 Plus V6 leads its class in providing you with extended maximum performance while on the go.
Simply Thin. Simply Amazing.
AORUS never stop pursuing perfection. With X3 Plus's sleek design comes a newly-built slim adapter. The 150 watt power supply readies you for gaming on the go. The adapter also includes a 2.1A USB DC jack, making charging cell phones and tablets easier and faster.
One-click Execution, Pure Dominance
Macro keys rarely available on gaming laptops are now an X3 Plus standard. AORUS exclusive macro keys simplify your killer combos into one-click execution keys. The scissor-switch key structure guarantees lightning response ensuring pure dominance during gameplay.
Macro Engine: Program Your Signature Moves
AORUS exclusive programmable Macro Engine automates and simplifies routine operations. Crush your opponents and sweep the match within one click. The AORUS exclusive features include macro recording support across keyboard and mouse. A maximum of 25 individual macros sets makes gameplay on the move as enjoyable and intuitive as desktop systems like never before.
XSplit Gamecaster + Broadcaster: Cast your Game Anytime, Anywhere
Now set up your stage and share the greatest gaming moments with XSplit Gamecaster + Broadcaster! Fully optimized social media integration is ready for real-time chats—keeping you notified yet focused in the game. It takes just one click to stream your gameplay to Twitch. Host your game like a pro! The show starts wherever you flip open your AORUS X3 Plus v6.
*Free 1-year XSplit Gamecaster + Broadcaster Premium License.
TriDef® SmartCam | Custom Stream Modding
To facilitate being the full streaming solution each AORUS includes TriDef® SmartCam software, you are now able to remove backgrounds without the hassle of using a green screen. Through the SmartCam application you can now apply live filters, and fully control your background, not only while streaming, but also through other video applications such as Skype.
System Gauge Readies You for Any Challenge
The best policy to win any game is to make sure your system is 100% with you. System Gauge presents the user comprehensive system information, including CPU & GPU loads, temperature, fan speed, network conditions and power scheme. A simple glance is all it takes to keep track of how your system works.
Fan Control: Customized Stability
The new updated Fan Control comes with 4 unique modes: Quiet, Normal, Gaming and Customize. Each assigns a certain percentage of the max fan speed for multiple scenarios, allowing users to pick the best cooling strategy for different occasions. Highest stability on full system load or pure tranquility when surfing? It's your call.
Features:
- NVIDIA® GeForce® GTX 1060: The Ultimate Performance
- 7th Gen KabyLake Intel® Core™ Overclocked Processor
- QHD+ Resolution: Astonishing Level of Detail
- Wide View 170 Degree - Crystal Clear Image
- SmartCam | Custom Stream Modding
Specification:
- Screen Size: 13.9"
- Screen Type: IGZO QHD+
- Backlight: LED
- Screen Resolution: 3200x1800 (4K)
- Processor: Intel Core i7 7820HK
- Processor Clock Speed: 2.9GHz-3.9GHz
- Graphics Chipset: NVIDIA GeForce GTX 1060
- Graphics Memory: 6GB
- SSD Drive: 1 x 512GB M.2 PCIe
- Memory Supplied: 2 x 8GB 2400MHz
- Memory Size: 16GB (2 x8GB)
- Max. Memory Support: 32GB
- Operating System: Windows 10
- LAN: Killer LAN
- Wireless LAN: 802.11ac
- Bluetooth Version: v4.2
- Webcam: Yes
- USB 3.1 Type-C Port(s): 1
- USB 3.0 Port(s): 3
- HDMI Port(s): 1
- Mini Display Port(s): 1
- Card Reader: SD/SDHC/SDXC
- Microphone Jack(s): 1
- Headphone Jack(s): 1
- Security: Kensington Lock
- Battery: Li-Polymer 73.26Wh
- Dimension: 330 x 22.9 x 263.5 mm
- Weight: 1.8 Kgs
- Warranty: 2 Years
More links for

"X3 Plus v7-CF1 NVIDIA 1060 6GB GDDR5,13.9" IGZO QHD+ LED, Intel Core i7-7820HK Gaming Laptop"
OcUK TV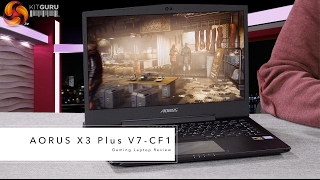 Product Specification:
| | |
| --- | --- |
| VR Ready | Yes |
| Size | 35.6 cm / 14" |
| CPU Type | Intel Core i7 |
| RAM | 16 GB |
| GPU - Graphics Processor | GeForce GTX 1060 |
| SSD | yes |
| Operating system | Windows 10 Home 64 Bit |
| Display resolution | QHD+ (3200 x 1800 Pixel) |
| HDD | yes |
| HDD capacity | 1TB |
| SSD capacity | 512 GB |
| Display-port | HDMI, mini Display Port |
| Peripheral connectors | USB 3.0 (3x), USB 3.1 Typ C (1x) |
| Bluetooth | yes |
| Wireless LAN | yes |
| RJ-45 (LAN) Ports | 1x |
| LAN | yes |
| Card reader | yes |
| Keyboard backlight | yes |
| Touchscreen | no |
| VRAM size and type | 6144 MB GDDR5 |
Awards & Media Coverage
Aorus has made welcome improvements with the X3 Plus v7-CF1.

Excellent IGZO technology display panel. Decent 1080p gaming performance. Solid battery performance.

Award
Customers also purchased: