noblechairs


EPIC Gaming Chair - White/Black
One-of-a-kind luxury gaming chair by noblechairs in white-black with 100% vegan faux leather cover
premium design
high-precision manufacturing plus ample features & adjustment options.
Free shipping 3
10+ In stock
Stock Code: GC-00F-NC
EAN: 4251442501037
MPN: NBL-PU-WHT-001
Manufacturer: noblechairs
Supported by the biggest tech community forums.overclockers.co.uk
Direct Service Hotline
+44 (0)1782 44 44 55
Product information:
EPIC Gaming Chair - White/Black
Avant-garde office chair brand noblechairs raises the bar up high by bringing you its impressive EPIC series swivel chairs pioneering the world's first gaming chair featuring valuable and exceedingly durable real leather covering. Their equally well-equipped faux leather siblings are made of 100% vegan polyurethane (PU) with similarly outstanding characteristics and a 25 per cent higher material thickness of 1.5 millimetres. The entire range of noblechairs' classy gamer seats shares the same stellar German design that strikes a perfect balance between luxury car-inspired appearance and materials as well as idiosyncratic gamer chair styling and ergonomics descended from racing car seats. The resulting discreet design without garish colouring creates an air of noblesse and renders the noblechairs gaming chairs simply beautiful.
The noblechairs EPIC is the best Gaming Chair of the year!
The noblechairs EPIC is the best Gaming Chair of the year!
European Hardware Awards 2020
noblechairs are proud to have received the crowning 'best gaming chair' award for the third time. The coveted award was presented for their EPIC series by the prestigious European Hardware Association, who comprise of 9 of the largest independent technology news & review sites from across the continent. The award was decided by over a hundred reviewers across Europe and given in recognition of the impact that the EPIC series made within the market since their launch with multiple best-in-class awards and overwhelmingly positive feedback.

Overclockers UK congratulates noblechairs on this well-deserved victory!
Delightful aesthetics, finest details and choice materials
The chairs' elegance is furthered by many loving details like the subtly debossed logo that crests the headrest above an elliptical aluminium emblem with relief lettering which adorns the backrest. The breathable imitation leather cover is perforated in the contact zones for ideal aeration and possesses an intriguing surface texture that emulates real leather perfectly. This white version of the noblechairs PU imitation leather range of gaming chairs comes with black seams along with a black logo patch with white embroidery and its easy-to-clean white artificial leather is nicely framed by black faux velour leather stripes. Combined with a stunning list of features the noblechairs EPIC series indubitably constitutes the pinnacle of gaming chair development.
"To sum up, this is simply one of the best chairs I've ever used and that includes several office chairs that claim to be ergonomic too. It's not a soft, kick back recliner - it's a proper chair that's comfortable and more importantly, promotes a good posture and is fully adjustable."
Only choice materials and advanced features:
Timeless and classy luxury car look "Designed in Germany"
Covering made of 100% vegan polyurethane (PU) imitation leather
Coloured seams, fine embroidery and perforated contact zones for best aeration
A sturdy frame that consists of solid steel
Height-adjustable safety class 4 gas lift
Comfy & breathable high-density cold foam upholstery straight from the factory
Durable five-star base and logo emblem made of pure aluminium
60 mm casters with nylon core and PU coating for soft and hard floors
Softly cushioned 4D armrests made of PU
Advanced rocking mechanism up to 14°
Flexible adjustment options for individual adaptability
Two pillows included for the lumbar and neck area
Reinforced outer packaging for safe and sound delivery
2 years manufacturer warranty most obligingly handled by OCUK
High-precision manufacturing for superb ergonomics
As behoves a premium product, any noblechairs' enviable sitting comfort is fabled due to its dimensionally stable high-class upholstery made of freshly moulded cold foam with 55 per cent density straight from the factory instead of recycled waste scraps used in many lesser, competing products. Its open-cell cold foam structure delivers optimal breathability in conjunction with the luxurious cover materials employed, which allows for a pleasant climate regulation and brings along increased robustness and longevity. The gaming chairs are perfected with fully automated manufacturing processes akin to those applied by car manufacturers that warrant a flawlessly pristine build quality.
A plethora of features with plenty of adjustment options
An advanced rocking mechanism, that allows for rocking the chairs up to 14 degrees, is accompanied by softly cushioned 4D armrests made of polyurethane, 360-degree swivel rotation, flexibly adjustable seat height via a safety class 4 gas lift and a sturdy steel frame mounted atop a durable five-star-base made of pure aluminium.
The pertaining five smoothly running 60 mm casters with nylon core and polyurethane coating are attached to the base and equally suited for soft and hard floors. The noblechairs gamer seat's tilt positions can be locked and the tilt tension can be dynamically adjusted. Also the angle between backrest and seating area can be statically adjusted through a practical side lever.
Two velvet pillows in matching colours included
Such sovereign adjustment options and flexible ergonomics render the noblechairs the most sophisticated gaming chairs available on the market. To adequately support the neck area and lumbar region, two removable pillows that allow for ultimate relaxation are included with every unit. Thanks to their unrivalled set of properties combined with long-awaited innovations, the EPIC series gaming chairs are not just suited for gamers and pro gamers, but for virtually everyone who craves for a truly comfortable office chair with chic design made of superior materials and produced with utmost quality.
All noblechairs gaming chairs are compliant with the UK Fire Safety Regulations for Furniture and Furnishings (BS 5852) and therefore possess a fire-retardant layer that has been applied to the surface material to minimise fire hazards.
Upgrade your throne with premium accessories from noblechairs!
The first class chairs from noblechairs deliver an out-of-the-box fantastic seating experience, which can only be further enhanced by high-quality accessories by noblechairs. To adapt the gaming chair perfectly to the needs of the user, noblechairs offers practical 60 mm hard-floor wheels with automatic locking function , which stops annoying sliding and moving across the floor. In addition, shorter gas lifts allow for a lower overall height of the seat, which makes the chair the perfect throne even for smaller users.
Take it to the next level with a noblechairs footrest
Build on the premium comfort offered by noblechairs with a specially crafted footrest. Thanks to the ingenious design they can be adjusted by up to 57 degrees ensuring they match the angle of almost any recliner and designed to complement the EPIC and ICON series. The footrests come in a variety of different materials including leather and 5 luxury colour combinations.
Upgrade your noble experience from only £109.99
"When it comes to build quality and materials, it's a case of you get what you pay for - and you can definitely tell that this is a premium product. At £300, is the noblechairs EPIC worth having? For me the answer is yes. It looks great and it's built to last. They've put a lot of thought into the product and you definitely get your money's worth. The noblechairs EPIC is a comfortable, well designed chair that's worth the money and looks fantastic too"
---
Specifications
Appearance
Main colour: White
Side strip colour: Black (suede feel)
Stitchings colour: Black
Logo segment colour: Black
Logo embroidery colour: White
Pillow colour: Black with White embroidery
Measurements
Total height (with base): ca. 1310 - 1410 cm
Height adjustability: ca. 495 - 595 mm
Width backrest (shoulder level): ca. 545 mm
Width backrest (pelvis level): ca. 520 mm
Width backrest (point of contact): ca. 295 mm
Length backrest: ca. 870 mm
Backrest adjustability (static): 90° - 135°
Width seat (total): ca. 560 mm
Width seat (point of contact): ca. 350 mm
Depth seat (total): ca. 565 mm
Depth seat (point of contact): ca. 495 mm
Width armrests: ca. 105 mm
Depth armrests: ca. 270 mm
Rocking mechanism: max. 14°
Armrests adjustable: Yes (four-dimensional)
Maximum weight (user): 180 kg
Net weight (chair): ca. 27 kg
Gross weight (chair): ca. 29 kg
Package dimensions: ca. 84 * 38 * 70 cm
UK Fire safety compliance: BS 5852
Manufacturer warranty: 2 years
1 Month Comfort Guarantee
We are that confident you'll love your new noblechair, in the unlikely event you aren't 100% happy, Overclockers UK will arrange collection of your chair and offer a full refund*.
*Terms and conditions apply
---
More links for

"EPIC Gaming Chair - White/Black"
OcUK TV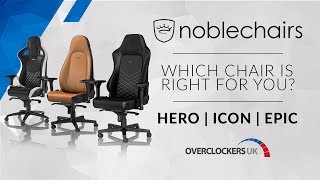 Awards & Media Coverage
No other technology awards bring together over 100 of Europe's top journalists to decide on the very best hardware being sold across the continent, in quite the same way as the EHA Awards.

Award

"Overall, the noblechairs EPIC is exactly what we expected – a gaming chair using premium materials and offering decent comfort. If you've got £300 to spend on a chair, we can't see anything else that offers better support."

Award

"With its EPIC Series noblechairs undoubtedly set a new milestone in gaming chair history. Luxurious sportiness, almost on par with a high-end sports car's interior, incomparably precise craft, the first real leather as well as the best faux leather covering I have ever seen topped off with a courteous customer support and serious expertise."

Award

"The European Hardware Association (EHA) began as a concept almost 3 years ago and it has built ever since. The EHA includes KitGuru from the United Kingdom, HardwareLuxx from Germany, Hardware.Info from the Benelux region, Geeknetic from Spain, Hardware Upgrade from Italy, Lab501 from Romania, CowCotLand from France, PurePC from Poland and SweClockers representing the Nordic countries."

Award

"Overall, I think the EPIC real leather chair is good value for money. noblechairs have clearly put a lot of thought into various aspects of this series, and it shows in the quality of materials, controls, and styling used."

Award

"In any case, if you are lucky enough to have enough money to buy an EPIC series chair, I believe it will be money well spent. I have made the mistake of using cheap low quality chairs in the past and now fully regret doing so."

Award

"To sum up, this is simply one of the best chairs I've ever used and that includes several office chairs that claim to be ergonomic too. It's not a soft, kick back recliner - it's a proper chair that's comfortable and more importantly, promotes a good posture and is fully adjustable."

Award

"Overall the Epic impresses and lives up to its premium price tag. If you can afford the luxury that this chair certainly is, then you'll have a great experience."

Award

"Do I think the price is justified? I will have to say yes! The real leather paired with the awesome looks and functionality, makes this one of my favourite gaming chairs I have used to date."

Award

"Overall, the EPIC Series from noblechairs is exactly that, EPIC! This is my official chair for my setup and I won't be using anything else for a long time!"

Award

"When I first saw the noblechairs price tag I thought in honesty, that they were trying to add a premium price and maybe could not justify it. I quickly saw the precision and love that had gone into it, from the packaging it came in to the detail that went into every component it uses. They tried to make the perfect chair and whilst there is not such a thing, I think they did a fantastic job."

Award

"The fact that noblechairs gaming chairs are made either from real exclusive leather or from PU, polyurethane imitation leather, makes cleaning one of these gaming chairs an extremely easy task."

Award

"The EPIC by noblechairs is without doubt one of the best models currently in the market and for that we're giving it our Golden Award."

Award

"The only chair that we can truly recommend is the noblechairs Epic. This chair has a great finish, is comfortable and stable. Despite the higher price it is the only model that we would recommend, and therefore it receives an Excellent Choice Award."

Award

"Garish, gaudy, chunky – all words you've probably associated with gaming chairs over the years. Now, finally, there's range that won't ruin your carefully chosen interiors."

Award

"Germany-based noblechairs has only been around for a year or so, but has already produced some stylish and well-made gaming chairs."

Award

Custom PC - Extreme Ultra

"If you have the money, and you want a good-looking, easy-to-build and very comfy place to park yourself while gaming, the noblechairs EPIC is about as good as it gets."

"The noblechair EPIC is simply the best chair we have reviewed at Play3r and I will go out on a limb and say this is the best chair in its price range. For £310, you get a lot for your money and although the term luxury is thrown around like a fence in a tornado, that's exactly what the noblechairs EPIC is, pure luxury!"

Award

"The noblechairs EPIC certainly lives up to its name, being one of the best designed and made gaming chairs on the market today. You might feel it's expensive, but all will be forgiven the moment you build it and roll it up to your desk to play some games."

Award

"This is the one. This is the gaming chair your ass deserves. Your ass deserves no less than the noblechairs EPIC Real Leather Gaming Chair. It's a pricey chair, but the luxury is worth it. This is the new Ferrari of gaming chairs."

Award

"The world's first real leather gaming chair has a lot to offer. It is expensive but certainly feels built to last and worth the cost."

Award

"The uncompromising quality of the materials bestrides our build experience like a colossus. Everything is unbelievably solid. The steel frame and high density foam combine with careful shaping and thick, soft, leather to produce something which is more pleasant to sit in than it is to look at, and we love looking at it."

Award
Customers also purchased: