Elgato


Game Capture HD60 Pro Capture Card - PC (1GC109901002)
1GC109901002
1080P Capture
Capture at 60fps
PCI-e X1
bitrate up to 60Mbps
Stock Code: CC-000-EL
EAN: 4260195391031
MPN: 1GC109901002
Manufacturer: Elgato
Supported by the biggest tech community forums.overclockers.co.uk
Direct Service Hotline
+44 (0)1782 44 44 55
Product information:
Game Capture HD60 Pro Capture Card - PC (1GC109901002)
The Elgato capture card will allow you to stream perfectly and get the perfect recording.

Perfect your content

You seek excellence and strive for precision. With optimum video capture, dedicated encoding, ultra-low latency technology, and more, HD60 Pro is your key to unlocking content of the highest caliber.

Perfect quality
With HD60 Pro, stunning 1080p capture with 60 fps is only the beginning. Instant Gameview feeds your stream with no delay, while simultaneous H.264 hardware encoding provides you with incredibly smooth footage in easily manageable files. Why would you ever settle for less?

Perfect recording
Textures, tones, shadows, lens flares – you treasure every detail, so recording in the highest possible quality is non-negotiable. HD60 Pro features an advanced, onboard H.264 encoder that enables you to record unlimited footage in superb 1080p60 quality, at a bitrate up to 60Mbps. This, all while keeping your project file sizes small and CPU load minimal. Why settle for less?

Perfect streaming
HD60 Pro boasts Instant Gameview, powering your stream with superior low latency technology. The result? An unbeatable broadcasting experience that awards you absolute, real-time satisfaction. You're live on Twitch or YouTube in a flash, and it's never felt more natural.

Perfect Control
Ever wrapped up a stellar stream, only to wish you could bump up the resolution for a YouTube upload? Now you can. With Master Copy, stream to Twitch and simultaneously record your gameplay in sharp quality up to 1080p60. What's more? Master Copy saves each element of your stream – like webcam and overlays – as separate tracks, enabling you to edit your videos without compromise

Perfect Creation
- Stream Command : Customize your stream without limits. Add your webcam, overlays, alerts and more, and change your layout on the fly with scenes.

- Flashback Recording: Forget to hit record? No sweat. Simply slide back in time and capture every moment retroactively.

- Live Commentry: Add your voice with the built-in Live Commentary feature, and you're all set for the big show.

Perfect Construction
Your PC sets the bar for high-end design? HD60 Pro is no different. With black electrogalvanized-steel casing accentuated by sharp, geometric edges, slick grilles and prominent port labels, this PCIe card boosts the benchmark for head-turning hardware.

Perfectly You
A core component for your premium setup, HD60 Pro makes complex production simple, so you can focus on what you do best. Play. Record. Stream. Engage. You know how to create top-notch content. Now let HD60 Pro handle the rest.

Technical Specifications
- Interface: PCIe x1
- Input: PlayStation 4, Xbox One, Xbox 360, Nintendo Switch and Wii U (unencrypted HDMI)
- Output: HDMI (pass through) up to 1080p60
- Supported Resolutions: 1080p60, 1080p30, 1080i, 720p60, 720p30, 576p, 576i, 480p
- Maximum Bitrate: up to 60 Mbps
- Dimensions & Weight: 122 x 56 x 14 mm, 102 g / 4.8 x 2.2 x 0.55 in, 3.6 oz


System Requirements
- Windows 10 (64 BIT)
- Intel HD, Nvidia GeForce GTX 600 or Better
- Intel I5-4xxx Quad core or better
- PCIe x1/x4/x8/x16 slot

Contents:
- HD60 Pro
- High and Low profile bracket
- 2m / 6.5 ft HDMI Cable
More links for

"Game Capture HD60 Pro Capture Card - PC (1GC109901002)"
This article is used in:
OcUK TV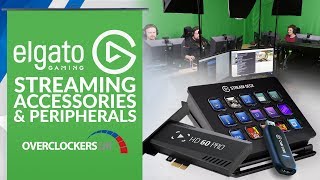 Customers also purchased: