Elgato


USB 6 Key Customisable Stream Deck Mini (10GAI9901)
Stream Deck Mini packs the same punch as Stream Deck – in an ultra-compact package that's easier on your pocket.
Stock Code: CC-007-EL
EAN: 4260195391710
MPN: 10GAI9901
Manufacturer: Elgato
Supported by the biggest tech community overclockers.co.uk/forums
Direct Service Hotline
+44 (0)1782 44 44 55
Product information:
USB 6 Key Customisable Stream Deck Mini (10GAI9901)
Features:
- Keyboard with fully-customizable LCD keys
- The ideal multitasking production controller
- 6 keys: tap to launch actions
- Key folders: turn keys into folders to access unlimited actions
- Multi Actions: launch multiple actions simultaneously or sequentially – with one tap
- Easy setup: drag and drop actions onto keys in the app
- Direct integration: control Game Capture, OBS, Streamlabs, Twitch, YouTube and more
Break boundaries
You're creating quality content backed by the best tech on the planet. But you want to do more. With Stream Deck, unleash your creative genius and make waves across Twitch and YouTube. All while focusing on what matters most: your audience.
Take control
6 fully customizable LCD keys poised to trigger unlimited actions. One-touch tactile operation. Instant visual feedback. Advanced yet easy-to-use software. Traditionally this level of studio control was exclusive to mainstream entertainment broadcasters. Now, it's at your fingertips. So you can maximize your production value and focus on what matters most: your audience.
Streamline your setup
Elgato Game Capture, OBS, Twitch, Twitter, TipeeeStream, XSplit, YouTube, Mixer, and more – Stream Deck integrates your tools and automatically detects your scenes, media, and audio sources, enabling you to control them with a quick tap of a key.
Be proactive
Automated alerts make life easier. But between thanking donors and welcoming new subscribers there's ample opportunity for self-expression. Employ Stream Deck to level up your onscreen antics with GIFs, images, videos, and audio clips. While you're at it, apply lower thirds and bookend your content with signature intro and outro graphics. Your options are endless, so explore and experiment. Do what you must to sharpen your creative edge, and do it with a personal touch.
Make it yours
Customizing Stream Deck is effortless. Simply drag and drop actions onto keys, and make them your own with custom icons. Need more actions? Nest folders within folders to amass as many actions as you want. Better yet, save unique key configurations as dedicated profiles for different games and apps, switch between them on the fly, and share them with fellow creators.
Bring it on
Gone are the days of navigating windows to trigger an action, and relying solely on automated plugins to expand your production value. Now, you hold the power to pioneer a new era of content creation, and lead your audience to uncharted frontiers of inspiration. Now, you're in control.
Technical Specifications
- Interface: Integrated USB 2.0 Cable (150cm)
- Keys: 6 x Customisable LCD Keys
- Dimensions: 84 x 60 x 58 mm
- Weight: 160g
System Requirements
- PC: Windows 10 (64-bit)
- Mac: mac OS 10.11 or Later
Contents:
- Stream deck Mini
- Quick start guide
More links for

"USB 6 Key Customisable Stream Deck Mini (10GAI9901)"
OcUK TV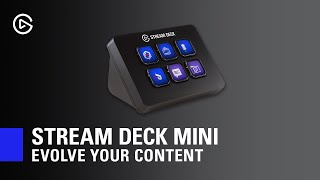 Customers also purchased: