Endgame Gear


XM1-RGB USB RGB Optical esports Performance Gaming Mouse - Black (EGG-XM1RGB-BLK)
Premium gaming mouse with integrated 16 RGB LEDs capable of displaying up to 16.8 million colours
Pixart PMW3389
mechanical Kailh GM 4.0
bundled software for adjusting RGB sensitivity and accuracy
Stock Code: KB-006-EG
EAN: 4251442503505
MPN: EGG-XM1RGB-BLK
Manufacturer: Endgame Gear
Supported by the biggest tech community overclockers.co.uk/forums
Direct Service Hotline
+44 (0)1782 44 44 55
Product information:
XM1-RGB USB RGB Optical esports Performance Gaming Mouse - Black (EGG-XM1RGB-BLK)
An update to the highly successful XM1 Gaming Mouse, the XM1 RGB adds RGB elements and other improvements to yet further enhance a pro-level Gaming Mouse. It is notable for precision tracking of movements, which is due to a PMW3389 sensor from PixArt, preselected, durable mechanical Kailh GM 4.0 (60gf) switches and large, easy to slide, mouse skates. Of course the standout feature of this new iteration is the integrated RGB LED elements. It features a total of 16 RGB LEDs that enable a total of 16.8 million selectable colours. These colours can be easily chosen the bundled in software.
The Endgame Gear XM1 RGB Gaming Mouse at a Glance:
Premium quality gaming mouse, developed for esports professionals
Ultra-light construction with a total weight of just 82g
Outstanding technical features including PixArt's flagship PMW3389 sensor and preselected mechanical Kailh GM 4.0 (60gf) switches 60M actuations
Host-side adjustable USB polling rate of 250Hz, 500Hz & 1000Hz
Total of five buttons including mouse wheel
Advanced Sensor Technology
Reducing the lag between on-screen action and your controller improves your gaming experience. The XM1 RGB's technology has been designed to reduce latency and give users and edge in competitive situations. For instance the internal signal processing of the switches is below one millisecond. This is due to patented analogue technology and the implementation of an 32 bit ARM STM Cortex-M0 MCU microcontroller. When combined with Kailh GM 4.0 (60gf) switches, which allow for 60M accuations, this makes for an unparalleled degree of precision when it comes to switch actuation.
Responsiveness is a priority for the XM1 RGB. It uses a high-end optical PixArt PMW3389 sensor that tracks movement at speeds up to 1.143 centimetres per second (450 IPS) as well as a Lift-Off Distance of 3mm, which makes recentring the mouse quick and easy.
Premium Components for Pros
The Endgame Gear XM1 RGB Gaming mouse has a total of five buttons which utilise specially selected Kailh GM 4.0 (60gf) switches, which are cable of 60 millian accuations. This not only offers superior durability but unparalleled feedback with every click.
In addition you will find a central embedded, highly tactile 2-way mouse wheel which is further complemented by two thumb-clickable buttons positioned on the left hand side of the XM1 RGB.
Highly customisable and a lightweight Software
Another reason the Endgame Gear XM1 RGB achieves a high level of precision is its extensive customisation options. A light press of a button on the underside of the mouse will switch between different CPI profiles - with the presets being 400, 800, 1600 and 3200 CPI. A longer press will switch between the three hardcoded polling rates.
Customisation can be further enhanced via the easy to use software bundled with the XM1 RGB. This software shares the mouse's minimalist aesthetic and can store four unique profiles. These can be assigned to the mouse and allow users the ability to switch between them via the button on the underside. The software allows for further adjustment of the CPI value.
Additionally LEDs on the underside visually indicate to the user which profile is currently in use and which USB polling rate is active ( two lights = 1000 Hz, right light = 500 Hz, left light= 250 Hz).
Ultra-Light Construction & Superb Build Quality
The XM1 RGB has special textured surface, which helps gamers maintain a firm grip - a significant advantage over the course of a long or intense competition. At the same time, the ergonomically optimised shape of the mouse prevents unnecessary stress or tension in the wrist, thereby ensuring maximum comfort even amidst competitive online FPS gaming.
The XM1 RGB's design is suitable for gamers with claw, palm or finger grip styles. The Endgame Gear XM1 RGB has an exceptionally low weight of just 82g while a 1.85 m cable is also very flexible. Silent and low friction, the PTFE glides ensure incredibly smooth mouse movements and help to prevent fatigue from repetitive movements.
Braided Endgame Gear Flex Cable
The XM1 RGB features an all new cable known as 'Flex Cord'.This unique braided cable is designed to be highly flexible and enables a tight bending radius. Cable drag is also minimised as the XM1 RGB's stress relief is angled upwards. This ensures there is enough clearance between the cable and surface. As a result, mouse movements feel unrestricted and almost wireless-like. Connection is made to the mouse via a ferrite bead in order to reduce signal noise.
Specification:
General:
Dimensions: 65.81 x 38.26 x 122.14 mm (W x H x D)
Width of grip: 60 mm
Weight: 82 g
Connection: USB 2.0 Type A
Lenght of cable: 1.85 m
Colour: black (matte)
Material: Plastic (Chassis), PTFE (Glides), Dry Grip coating (Surface)
Ergonomics / Layout: dextral (for right handed players)
Supported grip types: Claw Grip, Palm Grip, Finger Grip
Internal signal processing latency: 1ms
Sensor:
Type: Pixart PMW3389 high-end sensor (optical)
Microcontroller: 32bit STM ARM Cortex-M0 MCU
Resolution: 50 - 16,000 CPI (adjustable in 50 CPI increments)
Polling-Rate: 250, 500, 1,000 Hz (adjustable)
Acceleration: 50 G
Max Speed: 450 IPS
Lift-Off Distance: 2mm (standard) or 3mm (adjustable via software)
Buttons:
Number of buttons: 6 (2x top, 2x side, 1x wheel, 1 profile switch)
Programmable buttons: 5 (2x top, 2x side, 1x wheel)
Mouse-wheel-scrolling: 2-way
Main buttons (right/left):
Kailh GM 4.0-Switches (mechanical, selected)
Clicking force: 60 g +-5g
Operating life: 60 Million clicks
More links for

"XM1-RGB USB RGB Optical esports Performance Gaming Mouse - Black (EGG-XM1RGB-BLK)"
OcUK TV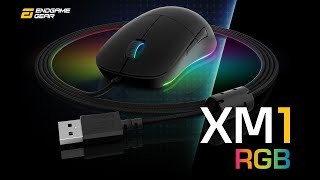 Customers also purchased: