Gigabyte


P34W V5-CF1 Gaming Laptop, 14" QHD LED, Intel i7-6700HQ, 16GB DDR4, GTX 970M 3GB, 128GB M2
GIGABYTE P34W V5-CF1 Ultraforce Gaming Laptop
14" QHD IPS Anti-Glare
Intel Core i7-6700HQ
16GB DDR4
128GB M.2 PCI-e + 1TB 5400rpm HDD
NVIDIA GTX970M 3GB GDDR5 - Windows 10
Stock Code: LT-021-AU
EAN: 4719331996956
MPN: P34W V5-CF1
Manufacturer: Gigabyte
Supported by the biggest tech community forums.overclockers.co.uk
Direct Service Hotline
+44 (0)1782 44 44 55
Product information:
P34W V5-CF1 Gaming Laptop, 14" QHD LED, Intel i7-6700HQ, 16GB DDR4, GTX 970M 3GB, 128GB M2
Stunning GTX 970M Graphics: Unleash Your Gaming Souls P34W v5 features a NVIDIA® GeForce® GTX 970M, capable of P9,000+ in 3DMARK 11*, ensuring users a solid edge over the competition. Battery Boost 2.0 delivers an uncompromised gaming experience with 30% extra battery life at same frame rate. Dynamic Super Resolution (DSR) upscales the native 1080p to 4K resolution for upgraded viewing pleasure. *Tested in Stretched Mode.
6th Gen Intel® CoreTM i7 Processor-Better Performance Through and Through. The new 6th Generation Intel® CoreTM i7 processor features the Intel® Skylake architecture with 14nm process, giving you blazing speed and performance which will complete your computing experience. With this new boost in performance, you can do more on your laptop ranging from work to play. Never worry about the battery life as this chip consumes 78% less power than the previous 5th Generation Broadwell chip. Together with PCIe SSD, DDR4 memory, USB 3.1 Type-C, and HDMI 2.0, Skylake allows you to start gaming right away!
M.2 PCIe SSD - Storage Speed in Overdrive Innovative PCI-Express SSD technology with the next generation form factor, M.2 is the newest incarnation of the solid state drive. With a single drive having a read speed of 2000 MB/s, the M.2 easily is 4x faster than any traditional SATA SSD technology available. With this boost in speed, the loading and installing time for programs and games will be greatly decreased. Moreover, system boot speed increases, thus greatly improving and accelerating the user experience!
DDR4 - Data Storage's Limit Breaker DDR4 is breaking through the limits of data storage. Better than its predecessor DDR3 in every way, DDR4 is essential for any high-resolution game, or data-intensive application. It runs at a frequency of 2133 MHz, which allows games to run faster and smoother like never before! DDR4 also possesses more storage with a max capacity of 16GB per stick, double that of DDR3. Whether you are gaming or working, DDR4 will be able to provide superior performance!
USB 3.1 Type C - Upgraded Convenience The frustrations of turning a USB over and over trying to get it to plug has ended. With the introduction of USB 3.1 Type C universal connector, connecting a USB is no longer a fuss. Not only is it easier to plug, it also has twice the throughput of USB 3.0, transferring 100GB video in as little as 80 seconds. Being able to transfer data faster and possesses much improved pluggability greatly improves any user's daily routine!
HDMI 2.0 - Higher Frame Rate, Higher Potential. The era of true 4K Ultra-HD is upon us! The untapped potential of 4K resolutions is realized through HDMI 2.0! Unlike HDMI 1.4 which only supports 8-bit color and 30 FPS, HDMI 2.0 can display games like never before! Supporting up to 18 Gbps transfer, the true potential of 4K resolution is realized through 12-bit color and 60Hz refresh rate! Finally see your favorite games how they were meant to be seen, in true high definition! *require HDCP 2.2 supported monitors
*Free 3-month Xsplit Gamecaster Premium License
Specification:
- Display: 14" QHD 2560x1440 Wide Viewing Angle LCD
- Processor Type: Intel Core i7-6700HQ
- Processor Cores: 4 (8 Threads)
- Processor Clock Speed: 2.6GHz-3.5GHz
- Hard Drive Supplied: 1 x 1000GB
- Hard Drive Size: 1000GB
- Solid State Drive: M.2 128G PCIe NVMe SSD
- Hard Drive Speed: 5400RPM
- Memory Supplied: 2 x 8GB
- Memory Size: 16GB
- Memory Type: DDR4
- Memory Speed: 2133
- Memory Socket: 2 x SO-DIMM
- Max. Memory Support: 32GB
- Operating System: Windows 10
- Graphics Chipset: NVIDIA GeForce GTX 970M
- Graphics Memory: 3GB GDDR 5
- Chipset: Intel HM170 Express
- Optical Drive: N/A
- Microphone: Built-in
- LAN: 10/100/1000Mbps
- Wireless: 802.11 b/g/n/ac
- Bluetooth: v4.1 + LE
- USB3.0 (Type-A)*3
- USB3.1 (Type C)*1
- HDMI Port(s): 1
- VGA Port(s): 1
- Headphone Jack(s): 1
- LAN Port(s): 1
- Card Reader: SD
- Web Camera: HD type
- Dimension: 340(W) x 239(D) x 20.9(H) mm
- Battery: Li-polymer, 15.2V, 61.25Wh
- Product Weight (g): ~1.74Kgs (W/Battery)
- Warranty: 2 Years
More links for

"P34W V5-CF1 Gaming Laptop, 14" QHD LED, Intel i7-6700HQ, 16GB DDR4, GTX 970M 3GB, 128GB M2"
OcUK TV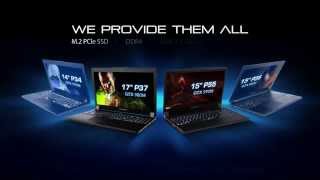 Awards & Media Coverage
"GIGABYTE's P34W v5 is jam-packed with the latest cutting edge technology. This slim, lightweight notebook is a great companion for the avid gamer who is on-the-go."

Award