Glorious PC Gaming Race


GWR-87 Compact Tenkeyless Ergonomic Keyboard Wrist Rest - Grey
The glorious wrist pad is a gaming wrist rest that can support a tenkeyless (87%) mechanical keyboards and provides proper ergonomics while gaming or general every-day use
Stock Code: GS-007-GR
EAN: 00000000
MPN: GW-G87
Manufacturer: Glorious PC Gaming Race
Supported by the biggest tech community forums.overclockers.co.uk
Direct Service Hotline
+44 (0)1782 44 44 55
Product information:
GWR-87 Compact Tenkeyless Ergonomic Keyboard Wrist Rest - Grey
Glorious tenkeyless (tkl) wrist pad (gwr-87) - 14x4 inches

The glorious wrist pad is a gaming wrist rest that can support a tenkeyless (87%) mechanical keyboards and provides proper ergonomics while gaming or general every-day use

the glorious wrist pad is designed by gamers to bring you the ultimate comfort while gaming.

Why do I need a gaming wrist pad?
Looks awesome.
Helps provide proper ergonomics while gaming.

How are we better than our competitors?
Our products have stitched edges that prevents fraying or peeling of surface.
The heavy rubber bottom prevents your wrist pad/wrist rest from ever moving when using it
high quality foam core interior which provides a soft level of firmness.
Smooth cloth surface on top which is easy to clean, and provides a comfortable surface during extended use.

Features:
fits tenkeyless mechanical keyboards (87/88 keys). Also fits non-mechanical keyboards as well, but it may be too high for some.
Dimensions: 14" x 4"
thickness = 25mm
color = Grey
smooth cloth surface
foam interior (soft firmness)
anti-slip rubber base
stitched frame to prevent fraying of cloth surface

manufacturer warranty:
1 year from date of purchase.
Pair this item up with our glorious mouse mat's for the ultimate experience!

Ideal for: Corsair, Cool Master/CM Storm, Das, Ducky, Filco, Logitech, Poker/Pok3r, Razer/BlackWidow Mechanical Keyboards

Note: this wrist pad is tall, almost ~1 inch. Once the foam is broken into, the wrist pad will be at a more comfortable height. This product is not recommended to be used with non-mechanical keyboards
More links for

"GWR-87 Compact Tenkeyless Ergonomic Keyboard Wrist Rest - Grey"
OcUK TV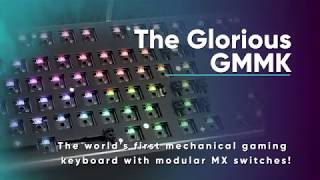 Product Specification:
| | |
| --- | --- |
| Size | Small, Medium, Wrist Rest |
| Material | Soft |
Customers also purchased: