Infin8


Swarm MK2 - Intel Core i9 10900K @ 5.0GHz Overclocked Watercooled Extreme Gaming PC
Intel Core i9 10900K Overclocked to 5.0GHz
Z490 Motherboard
Up to 32GB 3600MHz DDR4 RAM
Up to 2x GeForce RTX 2080Ti in SLI
Full Custom Watercooling.
Built to order. Please check the description below for lead time.
Stock Code: FS-453-OE
EAN: 00000000
MPN: FS-453-OE
Manufacturer: Infin8
Supported by the biggest tech community forums.overclockers.co.uk
Direct Service Hotline
+44 (0)1782 44 44 55
Product information:
Swarm MK2 - Intel Core i9 10900K @ 5.0GHz Overclocked Watercooled Extreme Gaming PC
Highly Stylish and Powerful PC
Designed and engineered in a similar vein to the Ultra High End 8Pack systems, the Infin8 Systems have been developed with the enthusiast in mind, delivering a taste of the full 8Pack experience at a lighter price point. Channelling the hardware experience and world class skill of 8Pack, the Infin8 Series of Systems were born. Infin8 aims to pay homage to 8Pack by combining many of the same standards, processes and components that 8Pack insists on using in his own epic range of systems.
Infin8 combines cherry picked processors with the finest components available today with dominating presence, the pure visual of an Infin8 system will compel you to desire the performance that lies within. Clean modern lines, packed out with the latest, cutting edge technology, every component chosen for superior performance.
Taking system construction to an art form, our professional in-house technicians meticulously cable manage, position and arrange all internal components with deft skill.
The Overclockers UK Infin8 Swarm system at a glance:
Advanced hardware such as Intel i9-10900K Overclocked to at least 5.0GHz
ASUS Strix Z490-E (Socket 1151) ATX MotherBoard
Full Custom Water Cooling
Choice of NVIDIA 2080Ti and 2080's
The Infin8 Swarm system is armed with the mighty Intel Core i9 10900K Ten Core, Twenty Thread Processor overclocked to its stable limit! Unchained, all ten cores operate in unison in speeds never experienced before, bringing the computational experience into warp speed. Thermal management is controlled by a beautiful and intricate Custom Watercooling Loop featuring a choice of Mayhems watercooling fluid for a wonderfully personal, organic effect. The memory runs at an rapid 3200MHz throughout all 32GB so that bandwidth is nigh on unlimited.
Storage is handled by both a SSD & HDD, a Samsung 970 EVO Polaris 250GB is selected as a primary drive enabled for record OS boot times and configured for split second application and game load times. The secondary HDD is a Seagate Barracuda Sata III drive offering ample space for all of your applications.
High Performance Graphics Cards:
Decked out the new Nvidia GeForce RTX 2080TI 11GB graphics cards ultimate firepower in maximum attack mode. The fun doesn't stop there though as the cards are fully watercooled which delivers a soothingly silent experience. Even 4K display resolutions crumble beneath the might of this graphical powerhouse.
Endless Power
Hooking everything together and providing the much need juice is the Kolink Continuum 1050W "80+ Platinum Rated" PSU, relentlessly giving your components the life force required to operate at 110% whilst maintaining world class efficiency and unrivalled silence. Modular cabling allows for a neat installation, which is beneficial both aesthetically and ideal for optimal airflow.
Infin8 Swarm In All Its Glory
All of this is installed within the stunning, compact Phanteks Enthoo Luxe Case with RGB LED control and tempered glass side panel, showcasing the gaming excellence and stunning looks of the Infin8 Swarm.
Infin8 Swarm MK2 Specification:
| Specification | Detail |
| --- | --- |
| CPU | Intel Core i9 10900K Comet Lake(Socket 1151) Watercooled and Overclocked to at least 5.0GHz |
| Motherboard | Z490 ATX DDR4 Motherboard |
| RAM | Up to 32GB 32000MHz Quad Channel DDR4 Kit |
| Graphics | Up to 2 x Nvidia GeForce RTX 2080Ti 11GB Graphics Cards with NVLink & Watercooled (Options Available) |
| Cooling | Full Custom Watercooling Loop with choice of watercooling fluid colours |
| Primary Drive | WD Black SN750 500GB M.2 NVMe (Options Available) |
| Storage Drive | Optional Solid State Drives |
| Audio | 7.1 Channel HD Audio with SPDIF I/O |
| Operating System | Microsoft Windows 10 Home Advanced 64-Bit (Options Available) |
| Power Supply | 1050W 80+ Platinum Rated Power Supply |
Special requests:
If you would like to make a small change to the specification call our Prestige Systems Advisor on 01782 940193 and they will be happy to help.
Please note:
Due to the complexity of these prestige systems, the minimum lead time for these systems is 14 working days.
We will always endeavor to meet this deadline but at busy times delays may occur.
More links for

"Swarm MK2 - Intel Core i9 10900K @ 5.0GHz Overclocked Watercooled Extreme Gaming PC"
OcUK TV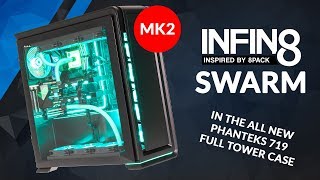 Product Specification:
| | |
| --- | --- |
| System Class | 4K/VR Gaming, Ultimate Gaming |
| Form Factor | ATX |
| CPU Type | Intel Core i7 Extreme |
| Cooling | Custom Water Cooling |
| RAM | 16 GB, 32 GB |
| GPU - Graphics Processor | GeForce GTX 1070 SLI, GeForce GTX 1080 SLI, GeForce GTX 1080Ti SLI |
| SLI/Crossfire | Yes |
| SSD | SATA 6Gb/s, M.2, NVMe (M.2) |
| Hard Drive | 1TB, 2TB, 3TB, 4TB, 1TB SSHD, 2TB SSHD |
| VR Ready | Yes |
Customers also purchased: