Intel


Core i5-8600K 3.6GHz (Coffee Lake) Socket LGA1151 Processor - Retail
BX80684I58600K
Hex Core
3.60GHz clock speed
14nm Process
9MB L3 Cache
Dual Channel DDR4 Controller
Integrated DX12 Graphics
3 Year Warranty
Stock Code: CP-63T-IN
EAN: 5032037108782
MPN: BX80684I58600K
Manufacturer: Intel
Supported by the biggest tech community forums.overclockers.co.uk
Direct Service Hotline
+44 (0)1782 44 44 55
Product information:
Core i5-8600K 3.6GHz (Coffee Lake) Socket LGA1151 Processor - Retail
Intel Coffee Lake brings you more cores for similar money to the last generation, getting you more performance for you money, particular in multi-threaded applications.
In testing we have found overclockability pretty promising on the Coffee Lake series, of course on K series products only and we shall be offering 8 Pack pre-binned processors from launch on 8700K.
This is a retail boxed processor and comes with Intel 3yr warranty and is un-opened and brand new, so your overclocking mileage is down to yourself and luck of the draw but Coffeelake promises to push the envelope the furthest yet when it comes to frequencies making them ideal for games and applications that require outright pure MHz performance and they still have incredible multi core performance as well.





Lithography Process: 14 nm










Frequency: 3.60 GHz (Turbo Mode 4.30GHz)










Memory Controller: Dual channel DDR4 2400/2666/3000/3200/3600/4000/4133/4266/4500/4600/5000+ MHz










Memory compatibility: All DDR4 is compatible (Check your motherboards manual and we recommend 8 Pack 3200MHz and faster kits which guarantee Samsung B die for upto 5000MHz OC)





More links for

"Core i5-8600K 3.6GHz (Coffee Lake) Socket LGA1151 Processor - Retail"
Free items with this product worth £129.95!
Intel
Intel Starter Pack - Battlefield 1, PUBG and More
OcUK TV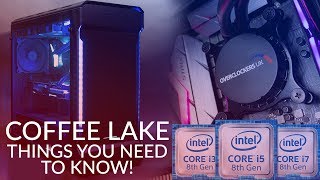 Customers also purchased: