Intel


Core i7-8700K 3.7GHz (Coffee Lake) Socket LGA1151 Processor - Retail
BX80684I78700K
Hex Core with Hyperthreading Technology
3.70GHz clock speed
14nm Process
12MB L3 Cache
Dual Channel DDR4 Controller
Integrated DX12 Graphics
3 Year Warranty
Stock Code: CP-63R-IN
EAN: 5032037108652
MPN: BX80684I78700K
Manufacturer: Intel
Supported by the biggest tech community forums.overclockers.co.uk
Direct Service Hotline
+44 (0)1782 44 44 55
Product information:
Core i7-8700K 3.7GHz (Coffee Lake) Socket LGA1151 Processor - Retail
Coffee Lake


These codenames belong to the eight generation of Core CPUs which follow on from Kaby Lake and Skylake, although while they still share the 1151 pin socket design, due to the variety of optimisations to Coffee Lake CPUs they will not be compatible with older chipsets. Instead these processors will require Socket 1151 motherboards bearing the 300-series nomenclature. The Intel Core i7 processors from the Coffee Lake generation offer six CPU cores, high clock frequencies and new Turbo Boost features - all with a mere 65 Watt TDP!
---
The Intel Core i7-8700K at a Glance:
6 physical cores, 12 logical cores thanks to SMT!
3,7 GHz Base Clock with 95 Watt TDP
4,7 GHz Boost Clock with Turbo Boost 2.0
Unlocked multiplier for overclocking (OC)
12 Megabyte L3 Cache
Support for DDR4-2.666 (Dual Channel)
Revised UHD Graphics 630

Only compatible with Intel 300-series chipsets

Attention: Boxed version without CPU cooler!
---
The Intel Core i7-8700K: Hexa-Core Processor with Hyper-Threading
The Intel Core i7-8700K comes with an unlocked multiplier for easy overclocking. Yet even without overclocking this Core i7-8700K offers a clock frequency of 3,7 GHz which, using Turbo Boost 2.0, can be increased up to 4,7 GHz. However, it should be noted that the boost clock rates vary depending on 1-core, 2-core, 4-core or 6-core operation, which means that the optimum performance can always be obtained from the Coffee Lake CPU, allowing the user to determine what performance is available for games or applications. The L3 Cache has increased to 12 Megabytes, the Thermal Design Power (TDP) sits at 95 Watts and as a Core i7 this Hexa-Core processor comes with Intel's Hyper-Threading and this enables it to process not just six but rather 12 threads simultaneously.

A fundamental difference compared to Skylake- and Kaby Lake generations lies in the fact that Coffee Lake only uses the fast and efficient DDR4 RAM. The quad-core processors support a maximum standard clock frequency of 2.400 MHz, while the hexa-core processors permit clock frequencies up to 2.666 MHz. The LGA 1151 socket from Intel is retained, but it is essential to ensure that a motherboard with 300 series chipset is used, otherwise the processor could be damaged due to the differences in the power supplied to the chip.

The integrated graphics unit has also been optimized with regard to clock rates and drivers and has now been christened as the Intel HD Graphics UHD 630. With its 24 Execution Units, it offers more than enough graphics power for Intel Quick Sync, GPU computing and of course some games in between. Furthermore, the DirectX 12 graphics unit with the feature level 12_1, OpenGL 4.5 and OpenCL 2.0 compatibility also supports 4K playback, UHD resolutions at 60 Hz via DisplayPort - provided a compatible motherboard is used.

This relates to a boxed version of the processor without a CPU cooler!
Technical Details:
Type:
Intel Core i7-8700K ("Coffee Lake")
Manufacturing Process: 14 nm PlusPlus
Cores:
6 / 12 (physical / virtual)
Clock Frequency:
Base Clock: 3,7 GHz
Turbo Clock (max.): 4,7 GHz
Cache:
Level 3 Cache: 12 MB
Level 2 Cache: 1,5 MB (6x 256 kB)
Memory:
Memory Controller: Internal
Memory Channels: 2
Memory Standard: DDR4 (2.666 MHz)
Integrated GPU:
Intel UHD Graphics 630 (24 EUs, max. 1.200 MHz)
TDP:
95 Watt
Socket Compatibility:
LGA 1151
Chipset Compatibility:
300-Series from Intel
More links for

"Core i7-8700K 3.7GHz (Coffee Lake) Socket LGA1151 Processor - Retail"
OcUK TV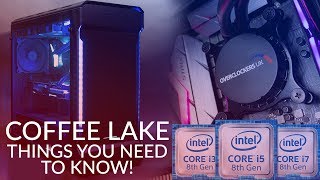 Customers also purchased: