Linx


Vision 8" IPS Gaming Tablet PC - Windows 10
The Linx Vision combines the power of Windows 10 with blockbuster gaming from Xbox and puts them at your fingertips.
Stock Code: TB-000-LI
EAN: 00000000
MPN: LINX8VISION001
Manufacturer: Linx
Supported by the biggest tech community forums.overclockers.co.uk
Direct Service Hotline
+44 (0)1782 44 44 55
Product information:
Vision 8" IPS Gaming Tablet PC - Windows 10
The Linx Vision combines the power of Windows 10 with blockbuster gaming from Xbox and puts them at your fingertips. From casual games to intense multi-player scenarios, the immersive 8" HD display and Quad-Core Intel® chipset deliver high-intensity gaming experiences whether streamed from your Xbox One or downloaded directly from the Windows Store
Take control and change the game with unprecedented accuracy using the unique dual-analogue Controller System, giving you a fully-fledged console experience on your tablet wherever you are. With full XYAB, D-Pad and trigger controls, you can game the way you're used to, with or against your friends across Windows 10, Xbox One and Steam.
The Linx Vision features Intel's latest Atom™ Cherry Trail T3 processor for raw tablet performance and streaming capabilities. The enhanced on-board graphics chipset brings all of your games, movies and media to life with precision processing.
Built specifically for Windows 10, the Linx Vision is a fully fledged PC with great free and paid games, apps, movies, TV shows and the latest music all available at the new Windows Store. Keep connected and make the most of every minute of every day and purchase games ready to play on your Xbox One console or Steam account.
Take control and dominate the competition with full Xbox and PC gaming support intergrated into the Linx Vision Controller System. Immerse yourself in a new yet familiar gaming experience with dual analogue controllers, full trigger and XYAB action buttons, D-Pad and Vibration Feedback.
The latest Intel® Cherry Trail T3 processor lets you stream your favourite Xbox One, Steam games and content right into your hands, anywhere in your home and without the need to take over the TV. From Halo 5: Guardians to Fable Legends. AAA gaming has never been so portable.
For the elite performer, the additional textured rubber grip provides superior comfort and reduces fatigue, while backlit LED action buttons keep your session going long into the night without missing a piece of the action.
Precision engineered inside and out to give you the best possible tablet gaming experience, the Linx Vision delivers an elite standard in design and craft to create the most immersive gaming experience with an intuitive controller system that is comfortable to use over long sessions.
Prestige materials have been used to finish the Linx Vision to the very highest standard. With Aluminium alloy inlays that structure and support the core components and chassis of the design.
Specification:
- Operating System Windows 10 Home
- Dimensions 214.6 x 134.7 x 9.9mm
- LCD Screen 1200 x 800 / 60 Hz Refresh Rate
- CPU Intel® Atom Cherry Trail - T3 and PCBA connector change
- RAM 2GB
- Flash HDD 32GB
- External Media Up to 32GB Micro SD®
- Battery 6,000mAH
- Casing Polycarbonate and Aluminium Alloy
- Wi-Fi Enabled Yes – AC Standard
- Bluetooth Version 4.0
- Camera (Front) 2MP
- Camera (Rear) 2MP
- Mic Yes with Cortana support
- Micro USB
- Micro HDMI
- Pogo Pin
- 3.5mm Headphone Jack
- HDMI 1.4 output
- Micro USB
- 3.5mm Aux-in
- SD card slot
- Required Xbox One® for streaming
- Required Wifi for streaming and Microsoft Store®
- Linx Communitie Forums: http://www.linxtablet.co.uk/
- Warranty: 1yr
More links for

"Vision 8" IPS Gaming Tablet PC - Windows 10"
OcUK TV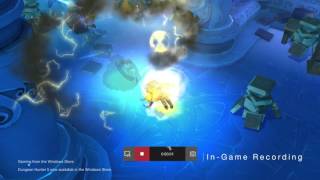 Customers also purchased: