MSI


GeForce GTX 1070 GAMING X 8G 8192MB GDDR5 PCI-Express Graphics Card
GTX 1070 GAMING X 8G
Core Clock: 1607MHz
Boost Clock: 1797MHz
Memory: 8192MB 8108MHz GDDR5
Stream Processors: 1920
SLI Ready
VR Ready
Custom PCB
10 phase power delivery
3 Years Warranty.
Stock Code: GX-32A-MS
EAN: 4719072467418
MPN: V330-001R
Manufacturer: MSI
Supported by the biggest tech community forums.overclockers.co.uk
Direct Service Hotline
+44 (0)1782 44 44 55
Product information:
GeForce GTX 1070 GAMING X 8G 8192MB GDDR5 PCI-Express Graphics Card
The newly launched MSI GTX1070 Gaming X uses a unique cooler featuring the latest Torx 2.0 Fan design to generate an extra 22% of air pressure while remaining incredibly quiet. To further assist in cooling, the Gaming X features a full cover metal backplate.
Get the best performance in the latest games like Mirrors Edge: Catalyst, Dark Souls 3 and Tom Clancy's The Division, with the latest NVIDIA GPUs. Use the awesome power of the GTX1070 to delve in to Virtual Reality with an Oculus Rift or HTC Vive VR headset and experience new levels of smoothness with the VR Ready GeForce GTX 10 Series, offering over double the performance of the GTX 900 Series in VR applications.
Using the latest Vulkan API and Direct X 12 along with other NVIDIA technologies including NVIDIA GameStream Technology and NVIDIA Ansel, the GTX 1070 is built to perform. The latest Pascal GPU architecture reaches new levels of power efficiency and silence, meaning you can stay fully immersed in your gaming and VR experiences.
NVIDIA's GeForce® GTX 1070 is one of the most advanced gaming GPU ever created, powered by the high-performance, energy-efficient new NVIDIA Pascal™ architecture. Pascal enables truly game-changing performance with captivating sights and sounds, as well as next-generation VR performance that offers the lowest latency and plug-and-play compatibility with leading headsets.
NVIDIA Ansel Technology exclusive to 10 series allows you to grab a screenshot in supporting games such as The Divsion and upcoming Unreal Tournament from any 360 degree position, ability to increase resolution, use cool filters so that you can screenshot those perfect headshots and view them in a full 360 degrees.
NVIDIA VR AUDIO Works Technology exclusive to 10 series is interative audio so realistic path traced audio meaning sound bounces off objects just like it would in the real world further improving the gaming experience on the audio side.
NVIDIA GeForce 10 series is based on 16nm finfet architecture resulting in just 150W TDP (GPU) power consumption for a graphics card that can outperform Titan X in many situations whilst being upto three times more efficient. Overclocking headroom is also exceptional with around 1.8GHz core overclocks being possible (not guaranteed) resulting in 20% and higher overclock potential.
NVIDIA Simultaneous Multi-Projection Technology renders multi screens in one path mean performance in Virtual Reality titles on VR headsets such as HTC Vive and Oculus Rift results in double the performance of Titan X making 10 series the King of Virtual Reality and whilst being upto three times more efficient at the same time.
Specification:
- GPU: GeForce® GTX 1070
- CUDA cores: 1920
- Video Memory: 8GB GDDR5
- Memory Bus: 256-bit
- Engine Clock Base: 1607 MHz
- Boost:1797 MHz
- Memory Clock: 8108 MHz
- PCI Express 3.0
- Display Outputs: 3 x DisplayPort 1.4, 1x HDMI 2.0b, 1x DL-DVI
- HDCP Support: Yes
- Multi Display Capability: Quad Display
- Recommended Power Supply: 500W
- Power Consumption: 150W
- Power Input: 8-pin + 6-pin
- Custom PCB with 10 phase power delivery
- DirectX 12 API feature level 12_1
- OpenGL 4.5
- Cooling: Twin Frozr VI Cooler
- Slot Size: Dual Slot
- SLI: Yes
- Supported OS: Windows 10 / 8 / 7 / Vista
- Card Length 279mm x 140mm
- Warranty: 3yr
More links for

"GeForce GTX 1070 GAMING X 8G 8192MB GDDR5 PCI-Express Graphics Card"
OcUK TV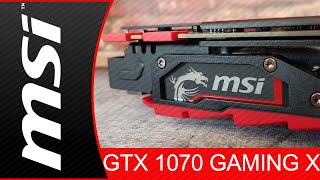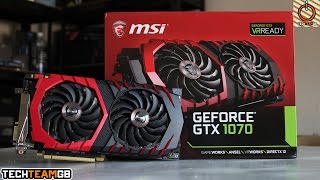 Product Specification:
| | |
| --- | --- |
| Virtual Reality | GeForce GTX VR Ready |
| Purpose / Type | NVIDIA GeForce GTX Gaming |
| GPU - Graphics Processor | GeForce GTX 1070 |
| VRAM size and type | 8192 MB GDDR5 |
| Display-port | Display Port (3x), DVI-D, HDMI |
| Required Slots / type | 2 Slots |
| Power inputs | 1x 6-Pin + 1x 8 Pin PCIe |
Awards & Media Coverage
"It really is a fantastic card... Performs ridiculously well at 4k and 1440p."

Award

"Moving to performance we have a card which offers framerates which often exceed the AMD Fury X. The latest games were playable at 1440 and 4k resolution and MSI have kept temperatures at a very reasonable level. As far as noise levels go, also very impressive. When not gaming, or gaming in less demanding titles, the card runs silent (fans off). When stressed with more demanding games the fans never become intrusive, barely audible really."

Award

"It's rare to find a combination of silent but powerful cooling matched up to a card that has build quality only equalled by its performance and power efficiency. No matter what your chosen gaming resolution is or which titles you prefer to play it's a safe bet that the MSI GTX 1070 Gaming X will leave you delighted with your gameplay smoothness, and it's easily worthy of our OC3D Performance Award."

Award
Customers also purchased: