noblechairs


EPIC Gaming Chair - Black Edition
New vinyl imitation leather material cover
Breathable micro-pores
Comfortable cold foam upholstery
Stunning stainless steel adjustment mechanisms
multiple award winning gaming chair
Stock Code: GC-029-NC
EAN: 4251442503215
MPN: NBL-PU-BLA-004
Manufacturer: noblechairs
Supported by the biggest tech community overclockers.co.uk/forums
Direct Service Hotline
+44 (0)1782 44 44 55
Product information:
EPIC Gaming Chair - Black Edition
noblechairs EPIC Black Edition
The best just got even better!
With more than 500,000 units sold to date, noblechairs has redefined the premium gaming chairs segment. However noblechairs has outdone themselves with the new Black Edition range.
noblechairs is a favorite brand not only among gamers but anyone looking for optimal comfort and ergonomics from their chair. The EPIC Black Edition represents a visual and material upgrade to the well established EPIC line.
New to the Black Edition is a unique breathable vinyl upholstery. Manufactured in Germany, this innovative material is an ingenious imitation leather. It combines the comfort of real leather with the durability of PU leather.
The result is an ultra-soft comfortable surface. Additionally, the EPIC Black Edition adds new stainless steel grips, a more visually impressive wheelbase, and improved armrests with metallic belt pass-throughs. Overall the Black Edition is a premium upgrade to an already high-quality gaming chair.
---
Made from an Innovative Vinyl Material Designed for Comfort & Durability
The EPIC Black Edition is made from materials that exclude conventional solvents and instead use high-quality aqueous solutions in their manufacture.
During the manufacturing process a chemical reaction occurs that forms microfine pores. These are permeable to air and water vapour and allow for an unparalleled level of comfort. Even when sitting for extended periods of time, users will remain comfortable.
Moreover, the material is extremely durable. It will retain its appearance for years to come, is tear-resistant, resistant to abrasion and easy to clean.
---
The noblechairs EPIC Gaming Chair - Black Edition at a Glance:
Newly developed PU leather covering with breathable micro-pores
Infinitely adjustable lumbar support for the lower back area
New upholstered 4D Armrests adjustable in four directions
New powder-coated base made from solid aluminium
First class rocking mechanism
Premium stainless-steel handle
New belt pass-throughs with a metallic look
Large, quiet-running 60mm castors
Two comfortable cushions included
---
European Hardware Awards 2020
noblechairs are proud to have received the crowning 'best gaming chair' award for the third time. The coveted award was presented for their EPIC series by the prestigious European Hardware Association, who comprise of 9 of the largest independent technology news & review sites from across the continent. The award was decided by over a hundred reviewers across Europe and given in recognition of the impact that the EPIC series made within the market since their launch with multiple best-in-class awards and overwhelmingly positive feedback.

Overclockers UK congratulates noblechairs on this well-deserved victory!
---
Premium Gaming Chair with Revolutionary Hybrid Material Covering!
Taking inspiration from the finest examples of German automotive engineering, noblechairs produces the ultimate in seat design and comfort.
The noblechairs EPIC Black edition is on another level of excellence. Its combination of outstanding materials and racing aesthetics creates a truly eye-catching, yet comfortable, chair.
As you might expect the noblechairs EPIC Gaming Chair Black Edition is entirely black. The chair and backrest are covered in a fine imitation leather. This material was developed and manufactured in Germany. It is characterised by a soft texture and has microfine pores to maximise airflow. This combination of breathable, soft imitation leather and open-pored cold foam ensure the EPIC Black Edition offers a comfortable seating experience, even for long gaming sessions.
---
Durable Materials & Premium Craftsmanship
noblechairs uses machine-only manufacturing so all its products are precise and perfectly constructed.
In fact the process is similar to that of a car maker's production line with robotic arms crafting the characteristic steel frame of all noblechairs. This process ensure solid construction and makes noblechairs notably durable. The covers are also created by industrial means with machine embroidery guaranteeing quality and consistency of the stitchwork.
The EPIC Black Edition also bears the distinct noblechairs logo, which has been tastefully embossed on the headrest.
---
Premium Cushions with Exceptional Durability
To develop the EPIC Black Edition range noblechairs went back to basics. As a result of their efforts the EPIC Black Edition has improved ergonomics due to updated cushioning. Similarly the back rest has been optimised to offer enhanced lumbar support.
The chairs cushions consists of porous, deformation-resistant cold foam with an extremely high 55% density. This means the cushions will retain their breathability and form despite prolonged use. In comparison to other gaming chairs, noblechairs utilise a full steel frame ensconced within its upholstery.
First Class Adjustability & Ergonomics
The EPIC Black Edition manages to offer a fresh sporty design thanks to the use of attractive stainless steel handles for adjusting the chair. There is an unparalleled variety in adjustability settings. Once you've sat in the EPIC gaming chair and adjusted it to your personal preference, you won't want to get up! In addition, the height can be adjusted by 10cm and a rocking mechanism is also included with an adjustable backrest and practical 4D armrests
The Perfect Position for Every User
The overhauled 4D armrests are a great match for the EPIC Black Edition. The armrests perfectly complement its clean-lines and also enable adjustment in four dimensions to allow each user to set the perfect position for themselves.
As well as offering a smooth rocking mechanism, which allows the chair to tip up to 11°, the backrest can also be adjusted from 90° to 125°.
---
Designed for Hard & Soft Flooring
The five-point base of the EPIC Black Edition is made of a powder-coated aluminium and has special casters. These 60mm casters have nylon cores and a polyurethane coating. As a result the EPIC Black Edition is soft on surfaces and quiet when moved. The hydraulic gas lift is safety class 4 certified and, in combination with the newly optimised base, suited for a maximum load of up to 180kg.
---
Upgrade Your Throne with Premium Accessories from noblechairs!
These premium chairs deliver a sublime seated experience right out of the box. The experience can be further enhanced with the help of premium accessories from noblechairs. In order to adjust the gaming chair to perfectly fit the requirements of the user, noblechairs offers practical 60 mm hard floor casters with automatic brakes which bring to an end any unwanted forward or backwards sliding during use.
Maximise Your Comfort and Maintain a Healthy Posture!
When it comes to optimising your already-comfortable noblechairs, it still makes sense to invest in ergonomic accessories to take steps to actively prevent undesirable postural issues further down the line. With the noblechairs foot rests the noblechairs team has managed to develop just such an accessory. The noblechairs footrest not only maximises the comfort of the chair, it also happens to be incredibly easy on the back and assists in maintaining good blood flow. It also helps reduce the load on the back and the feet, thereby contributing to a more natural and healthy overall posture. The first-class materials along with their elegant design round out what is certainly a very premium accessory.
---
Every gaming chair deserves cushions, and none more so than noblechairs - that's why noblechairs has released their own brand of premium quality cushions. Offering improved neck and lumbar support, these cushions support and encourage a more natural posture while additionally improving overall comfort. Thanks to their exceptional flexibility and adjustability, the cushions can be placed exactly where they're needed for maximum comfort. Fine elasticated bands help hold the cushions in the desired position.
The noblechairs cushions are both soft yet supportive so as to provide the best possible support while also conforming to the contours of the body. The noblechairs range of cushions are easy to maintain and care for, given that they can simply be washed like any other material. Care and comfort aside, noblechairs cushions aren't lacking in the aesthetic department either: they include the famous noblechairs logo in multiple colours, in this instance in black, stitched into the cushions. By any measure, these represent a must own accessory for the owners of noblechairs everywhere.
---
Keeping Your Gaming Throne in Perfect Condition!
The noblechairs premium care and cleaning kit for real- and PU leather chairs helps ensure you not only enjoy a clean and hygienic seat surface, but it also helps ensure that your noblechairs gaming chair remains looking brand new for as long as possible - while even smelling like fresh leather. To this end, the set offers two colour-neutral cleaning agents, one which serves to clean the gaming chair and the other which helps to apply a protective layer to the surface of the chair and that also gives it the delicate scent of real leather.
Packaged in attractive bottles with a dispenser, the cleaning- and polishing agents can be applied using the included microfibre cloths and the premium quality sponge. All contents are beautifully packaged in a manner appropriate to its namesake: noblechairs.
---
Specification
Height specifications:
Total height (with base): approx. 129.5 - 139.5 cm
Seat height (with base): approx. 48 - 58 cm
Backrest height: approx. 87 cm
Width of inner backrest: approx. 29.5 cm
Wide backrest outside (widest point): approx. 54.5 cm
Width seat inside: approx. 35 cm
Wide seat outside (widest point): approx. 56 cm
Seat depth: approx. 49.5 cm
Overall depth (without base): approx. 56.5 cm
Minimum height of armrests: approx. 66.5 cm
Weight:
approx. 27 kg
Tilt angle of the rocking mechanism:
max. 11°
Backrest incline angle:
90° to 125°
Material:
Steel (frame)
Cold foam (padding)
Memory foam (headrest)
PU Leather (cover -> seat + contact surface)
PU Leather (back of backrest)
Aluminium (base)
Nylon / Polyurethane (castors)
Polyurethane (armrests)
Colour:
Black (cover), Black (seams)
Maximum load:
120 kg
Manufacturer warranty:
2 years
Certifications:
DIN EN 1335 Office chair, ANSI/BIFMA X5.1 2011 Office chair, TÜV tested gas pressure spring
Features:
Premium PU leather cover
Practical rocker function
4D adjustment of the armrests
Adjustable angle of the backrest (up to 135 degrees)
Adjustable seat height
Deformation resistant cold foam
Durable gas lift (Safety Class 4)
Strong 5-point base made of solid aluminium
60 mm castors for hard and soft floors
Sturdy steel core construction
More links for

"EPIC Gaming Chair - Black Edition"
OcUK TV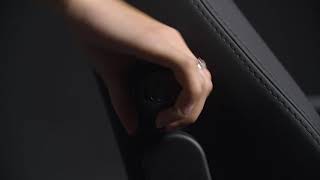 Customers also purchased: