Phanteks


Enthoo Evolv Shift X Mini-ITX Tempered Glass Case - Gunmetal Grey
Premium Mini-ITX Enthoo Evolv Shift X in Gunmetal Grey
Aluminium panels & tempered glass
Good watercooling support & 2 pre-installed fans
Space for 52 cm long graphics card & 280 mm radiator.
Stock Code: CA-06R-PT
EAN: 0886523300977
MPN: PH-ES217XE_AG
Manufacturer: Phanteks
Supported by the biggest tech community overclockers.co.uk/forums
Direct Service Hotline
+44 (0)1782 44 44 55
Product information:
Enthoo Evolv Shift X Mini-ITX Tempered Glass Case - Gunmetal Grey
The Enthoo Evolv Shift X combines the striking design of the Evolv series with new, innovative features to make for a truly eye-catching Mini-ITX case. The Evolv Shift X has a very small footprint, however due to its innovative layout it is capable of hosting a range of high-end gaming hardware components. The Shift X can also be placed horizontally, cutting an attractive figure in any living room with its intelligent blend of aluminium and tempered-glass surfaces. In spite of being designated as a Mini-ITX case, the Enthoo Evolv Shift X is capable of holding a large dual-radiator as well as graphics up to 50 cm in length.
The Features of the Phanteks Enthoo Evolv Shift X Mini-ITX Case
Striking aluminium and tempered-glass design
Perfect case for stylish living room PCs
Space for a 280 mm radiator
Graphics cards up to 52,9 cm in length
GPU bracket can be rotated
Supports a wide range of RGB-LED controllers
Can be set vertically or horizontally
Premium PC Case for the Living Room
The Enthoo Evolv Shift X offers space for gaming graphics cards up to 52,9 cm in length and a 280 mm radiator for a high-performance AiO CPU cooler. The case has been designed from the ground up to be the perfect silent, watercooled system for use in the living room. With its blend of tempered glass and aluminium, the case blends in perfectly amidst any designer living area and can be set vertically in a manner similar top Hi-Fi speakers or set horizontally like a games console.

The graphics card is mounted with the accompanying PCIe x16 riser card in such a way as to allow either the backplate or the GPU cooler to be visible from the exterior. The Mini-ITX motherboard is built in parallel to the graphics card with the back panel facing upwards. The ports on the I/O panel as well as the graphics card are hidden beneath a covering which allows all connected cables to be redirected through a gap in the back.
Mini-ITX Case for Custom Watercooling
The 280 mm radiator mentioned above can be installed to the fore of the Enthoo Evolv Shift X underneath the motherboard and the graphics card. An SFX(-L) power supply can be installed in the back and the free space between the PSU and the front can be used for holding the reservoir of a custom watercooling setup. As the RGB lighting is visible from both sides, coloured liquid coolants are ideal for this case.

In order for your hardware of choice to be shown in the best possible light, with the help of the RGB-LEDs, the case enables LED lighting to be controlled via ASUS' Aura Sync, RGB Fusion from Gigabyte, as well as MSI's Mystic Light Sync - and all at the push of a button. A bracket for pumps as well as PSU shrouds also come with this Mini-ITX case.
Cooling, Storage & Additional Features
Two 140 mm fans come pre-installed from the factory in the Evolv Shift X and while the fan in the base of the tower pulls air in, the fans at motherboard height push the warm air up and out of the case. Additionally the warm air produced by the hardware is also removed via the vents built into the roof of the case.

Up to two 3,5" hard drives can be installed in the front in place of a radiator and both accompanying SSD brackets can similarly be attached in the front. The 2,5" SSD brackets are somewhat better installed at the back, allowing the case to hold a further radiator. The base plate on which the SSD brackets are installed (no tools necessary) can be removed to further simplify hardware installation.

The I/O panel of the Mini-ITX case is located to the left side on the rear of the case and offers two USB 3.0 ports for gaming peripherals or external USB hard drives as well as USB sticks. In typical Phanteks fashion there are several points with Velcro ties to allow improved cable management as well as rubberised cable guides in the case. Dust filters as well as air vents in the aluminium casing are equipped with dust filters to offer the system further protection.

Technical Details:
Dimensions: 170 x 650 x 274 mm (W x H x D)
Material: Steel, aluminium, tempered glass
Colour: Gunmetal Grey
Form Factor: Mini-ITX
Total Possible Fans:
3x 140/120 mm (upper)
1x 140/120 mm (lower)
Pre-installed Fans:
1× 140 mm (upper)
1× 140 mm (lower)
Radiator Mountings (depending on HDD and/or fan slots):
1x max. 280 mm (upper)
1x max. 120 mm (lower)
Filter: Front, back, bottom (removable)
Drive Trays:
2x 3,5" (internal, if no radiator is installed)
4x 2,5" (internal, 2 SSD brackets available, additional brackets can be acquired separately)
Power Supply: 1x SFX or SFX-L (optional), ATX up to 160mm
Expansion Slots: 2
I/O Panel:
2x USB 3.0
1x RGB Switch
Maximum Graphics Card Length: 529 mm
Maximum CPU Cooler Height: 82 mm
Guarantee: 5 Years
More links for

"Enthoo Evolv Shift X Mini-ITX Tempered Glass Case - Gunmetal Grey"
OcUK TV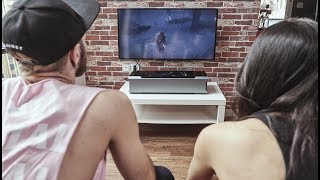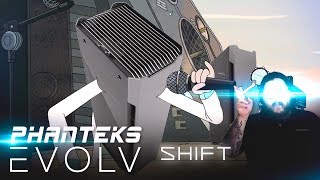 Product Specification:
| | |
| --- | --- |
| Case type | Midi-Tower |
| Form Factor | Mini-ITX |
| Side panel | Tempered glass |
| Colour | Gunmetal |
| Main colour | Gunmetal |
| Noise dampening | No |
| Width (exact) | 170mm |
| Height (exact) | 650mm |
| Depth (exact) | 274mm |
| Width | 170mm |
| Height | 650mm |
| Depth | 274mm |
| Material | Aluminium, Steel |
| Weight (exact) | 12.5KG |
| Weight | 12.5KG |
| USB 3.0 | 2 |
| Firewire | No |
| Audio output | 1x |
| Audio input | 1x |
| eSATA | no |
| Internal 2.5" bays | 4 |
| Internal 3.5" bays | 2 |
| PCI slots | 2 |
| Remote | no |
| Cable management | no |
| Front LCD/TFT display | no |
| Filter | yes |
| Power supply | no |
| Power supply format | SFX |
| Power supply position | Front |
| Fans pre-installed | 2x 140mm |
| Fan colour | Black |
| Fan controller | no |
| Card reader | no |
| Front door | no |
| Hot-swap | no |
| HDD anti-vibration | yes |
| Radiator-mounting | 1x Single (120mm), 1x Single (140mm), 1x Dual (240mm), 1x Dual (280mm) |
| Lighting | RGB Controller |
Awards & Media Coverage
Phanteks Evolv Shift X will appeal to the individual, rather than the mainstream.

Award
Customers also purchased: