Phanteks


PH F120XP PWM 120mm Fan - Black / White
The PH-F120XP
120mm premium PWM fans from Phanteks is designed with the unique Maelström concept technology. PH-F120XP's innovative 9-blade design focuses airflow with maximum efficienc
Stock Code: FG-018-PT
EAN: 0886523000488
MPN: PH-F120XP_BK
Manufacturer: Phanteks
Supported by the biggest tech community forums.overclockers.co.uk
Direct Service Hotline
+44 (0)1782 44 44 55
Product information:
PH F120XP PWM 120mm Fan - Black / White
The PH-F120XP, 120mm Premium fans with PWM function from Phanteks is designed with the unique Maelström concept technology. PH-F120XP's innovative 9-blade design focuses airflow with maximum efficiency. With a 4-pin PWM connector, the PH-120XP fan is controlled with the motherboard's temperature sensors allowing for the speed to increase or decrease depending on system loads for effective noise management. Performance and durability are now possible and a standard with the new PH-F120XP.
MVB (Maelström Vortex Booster)
The nine blades are positioned in a way that it provides a powerfully controlled airflow. The MVB produces a downdraft vortex allowing air passage through the surface to produce a significantly better performance while keeping the noise level down.
UFB bearing (Updraft Floating Balance bearing)
Phanteks' UFB bearings are composed by MOSS and SSC system. MOSS has an effective fan hub-blade ratio to achieve a dynamic balance, thus floating the axis for minimal air noise. SSC increases the bearing life span to ensure that the fan axis is consistently operating without mechanical noise.
Polarity Auto-Restart Protection
Phanteks' unique fan circuit design provides a Fan Polarity Auto-Restart feature. The sensor inside of the fan will constantly send a series of rectangular signals to your PC M/B indicating that the fan is working correctly. The unique restart feature provides optimal support and protection.
Specifications:
- Dimensions: 120 x 120 x 25 mm (W x H x D)
- Holes: 120 x 120 mm
- Color: Black (frame), White (rotor)
- Volume: 21 - 27 dB (A)
- Speed: 600 - 1,500 results (+/- 250) U / min
- Stroke: 23.0-61.6 CFM
- Static pressure: 0.39 to 1.72 mm H2O
- Voltage: 12 V
- Power consumption: 2.4 W / 0.2 A
- Life Expectancy: 150,000 hours
- Manufacturer Warranty: 5 years
- Connection:
- 4-pin PWM
- Scope of delivery:
- PH-F120XP fan
- 4x fan screws
- 1x 4-Pin Extension Cable (400 mm)
More links for

"PH F120XP PWM 120mm Fan - Black / White"
OcUK TV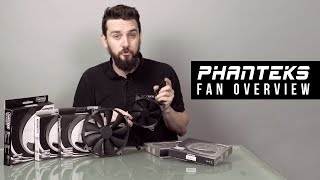 Customers also purchased: