Phanteks


PH-F140SP 140mm Fan - Black / White
PH-F140SP's nine blades with MVB feature produce powerful yet silent downdraft airflow. With the UFB bearing
composed by MOSS and SSC systems
Stock Code: FG-007-PT
EAN: 0886523000426
MPN: PH-F140SP_BK
Manufacturer: Phanteks
Supported by the biggest tech community forums.overclockers.co.uk
Direct Service Hotline
+44 (0)1782 44 44 55
Product information:
PH-F140SP 140mm Fan - Black / White
PH-F140SP's nine blades with MVB feature produce powerful yet silent downdraft airflow. With the UFB bearing, composed by MOSS and SSC systems, long lifespan and rotation stability are made possible.
The new redeveloped blades in PH-F140SP are angled lower to achieve higher air pressure. The redesigned MVB blades generate better airflow and produces better performance. It improves the balance of airflow and air pressure when using with as a case fan.
The new nine high pressure MVB blades are precisely angled to generate a silent controlled airflow. The blades produces a downdraft vortex allowing for greater amount of air passage through and reduce airflow turbulence across the surface of the blades to create significantly better performance and airflow while keeping noise to a minimum.
Composed by MOSS and SSC systems, Phanteks' UFB bearings have an effective hub-tip ratio to achieve a state of equilibrium reducing air and vibration noise. SSC provides an increase in the bearing's lifespan and ensures that the fan's axis is consistently operational and quiet.
Eight pre-installed rubber pads are now bigger and designed to reduce more vibration.
With the noise reduction challenges in mind, we modified the component for lower actuator noise, PCBA for lower electromagnetic noise, brushless motor structure for lower operating noise and frame rib for lower wind and vibration noise
Specification:
- Dimensions: 140 x 140 x 25 mm (W x H x D)
- Holes: 140 x 140 mm
- Black (frame), White (rotor)
- Noise level: 19 dB (A)
- Speed: 1,200 (+ / - 250) U / min
- Air flow volume: 138.7 m³ / h
- Static Pressure: 1.33 mm H2O
- Voltage: 12 V
- Power consumption: 1.8 W / 0.14 A
- Life expectancy: 150,000 hours
- Manufacturer Warranty: 5 years
- Connection: 3-pin
Contents:
- PH F140SP fan
- 4x fan screws
- 1x 3-pin extension cable (400 mm)
More links for

"PH-F140SP 140mm Fan - Black / White"
OcUK TV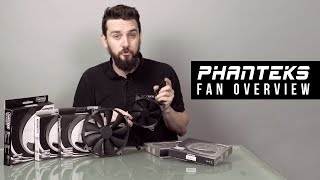 Customers also purchased: