Raijintek


Triton 240mm AIO Water Cooling Solution
Socket Compatibility: 775 / 1150 / 1155 / 1156 / 1151/ 1366 / 2011 / AM2 / AM2+ / AM3 / FM1 / FM2
Stock Code: HS-016-RT
EAN: 4715109920505
MPN: 0R100018
Manufacturer: Raijintek
Supported by the biggest tech community forums.overclockers.co.uk
Direct Service Hotline
+44 (0)1782 44 44 55
Product information:
Triton 240mm AIO Water Cooling Solution
Raijinteks first all-in-one water cooler named Triton combines optimal processor cooling capability. The extraordinary performance is made possible by utilising a waterblock made of nickel-plated copper with micro channels, a 240mm Radiator with a high fin density along with a high-grade low-noise pump. The two 120 mm fans are manually adjustable and three coloured coolants are included for all tastes and in the process illuminated by two integrated LEDs.
- 240mm Aluminium Radiator
- Low-noise pump with graphite pipe
- Nickel-plated copper cold plate
- Resevoir with 2 Integrated LED's
- Red, Green, Blue or Transparent Coolant
- 2 x 120mm fans, Manually adjustable
- Easy & Secure installation
- Compatible to almost all sockets.
Specifications:-
- Fan Dimension 120 x 120 x 25 (mm)
- Fan Speed 1000 - 2600 RPM
- Fan Airflow 38.889 - 100.455 CFM
- Fan Air Pressure 0.744 -4.819mm H2O
- Fan Noise Level 21.6 - 41.6 dBA
- Fan Rated output 0.08 - 0.48 A
- Power Consumption 0.96 - 5.76 W
- Connector 3 pin
- Radiator Dimensions 275 x 120 x 32 (mm)
- Radiator Material 100% Aluminium
- Pump Dimensions 38 x 56 x39 (mm)
- Pump Bearingh Type Graphite Pipe and Ceramix Axis
- Pump Q-Max 120L/Hr
- Pump noise 18 dBA
- Pump Life Expectancy 50,000 hours
- Pump Speed 3000 RPM @ 12v DC
- Pump Power 4 W
- Copper Cold Plate
Two Year Warranty
Customer Notice:
The unit comes with a Warranty Void Sticker covering the fill port on the main unit. This is to prevent novice users from opening the system. By opening the unit to add the dye, the manufacturer assumes that you have a level of expertise required to carry out the task.
You must not use specialist coolants in this cooler. Only use of coolands based on distilled water using dyes is covered under warranty
Removal of the Warranty Void sticker will only void your warranty if signs of misuse or excessive modification is detected.
More links for

"Triton 240mm AIO Water Cooling Solution"
OcUK TV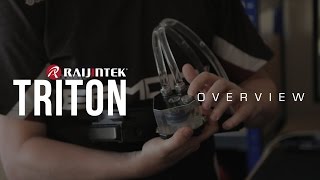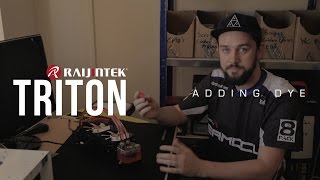 Awards & Media Coverage
"An affordable 240mm water cooler which offers great value for money."

Award

"The Triton is a bit of a steal and represents great value not just as an AIO but one that offers the ability to add a bit of bling to the inside of your case, mimicking, if not actually achieving a bit of the "Custom loop" look."

Award

Custom PC - Premium Grade

"The Raijintek Triton AIO is an excellent cooler! It's customisable, expandable and performs excellently. It is a great choice for anyone who is looking to start their adventure into watercooling without spending a fortune."

Award

"The Triton will deliver some fantastic results. A well needed step away from plain old black AIO coolers. Great job Raijintek."

Award

"Performance is nothing short of excellent. The combination of its 240mm radiator, the two 2600 RPM fans and that powerful pump sees the Raijintek take on all comers."

Award
Customers also purchased: