Zowie


FK1 High Performance Optical USB Gaming Mouse
Ambidextrous mouse developed for claw grip usage
Two thumb buttons on both sides to comfortably serve left- and right-handed users
Plug and Play
400 / 800 / 1600 / 3200 DPI adjustment
Stock Code: KB-035-ZW
EAN: 4718755062575
MPN: 9H.N04BB.A2E
Manufacturer: Zowie
Supported by the biggest tech community forums.overclockers.co.uk
Direct Service Hotline
+44 (0)1782 44 44 55
Product information:
FK1 High Performance Optical USB Gaming Mouse
In the highly competitive world of eSports, we are fortunate to see more and more exciting games. The outcome of a duel between the top players is often determined by a second - a second containing a player's enthusiasm, persistence and dreams. They must play for victory while avoiding the slightest mishap.

ZOWIE GEAR upholds the spirit of endless pursuit of product quality and continuous understanding of a player's needs. Developing a stable product improves the performance of competitive players, fulfilling ZOWIE's commitment to eSports and players. Under this philosophy players are able to choose different mouse shapes, sizes and surface coating with the same performance.

ZOWIE FK1 comes as an answer to the many gamers that showed ZOWIE that the FK shape was something they were interested in but was too small for their hands. It will also satisfy the gamers who wish to use a mouse with Avago 3310.

One key feature for ZOWIE is the low lift-off distance which is important for any serious gamers. After lots of repeated testing, the research and development team was successful, achieving the low lift-off distance for the new model (1.5~1.8mm). All gamers that are interested in this signature feature from ZOWIE will be able to enjoy it in the new ZOWIE FK1.


Features:
• Ambidextrous mouse developed for claw grip usage
• Two thumb buttons on both sides to comfortably serve left- and right-handed users
• Plug and Play (no drivers needed)
• Easy to switch between left- and right-hand functionality
• 400 / 800 / 1600 / 3200 DPI adjustment
• Adjustable USB report rate 125 / 500 / 1000 Hz
• Perfect lift-off distance = 1.5 ~ 1.8mm
More links for

"FK1 High Performance Optical USB Gaming Mouse"
OcUK TV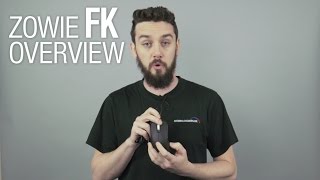 Customers also purchased: