noblechairs


EPIC Gaming Chair - Mercedes-AMG Petronas Formula One Team - 2021 Edition
Premium Gaming Chair
noblechairs and Mercedes AMG Petronas Motorsport iconography
neck and lumbar cushion
4D Armrests
Stock Code: GC-02K-NC
EAN: 4251442504021
MPN: NBL-EPC-PU-MPF
Manufacturer: noblechairs
Supported by the biggest tech community overclockers.co.uk/forums
Direct Service Hotline
+44 (0)1782 44 44 55
Product information:
EPIC Gaming Chair - Mercedes-AMG Petronas Formula One Team - 2021 Edition
Developed in collaboration with Mercedes-AMG Petronas Formula One Team this Epic Special Edition is truly made for F1 enthusiasts.
The EPIC Mercedes-AMG Petronas Formula One Team Edition Gaming Chair is the result of extensive R&D between noblechairs and Mercedes-AMG Petronas Formula One Team. This Special Edition is more than a gaming chair, it's a symbol of collaboration and a homage to everything F1 motorsports. The drivers, the eSports, and the team are represented by a chair that reflects the dedication, skill, and winner's drive.
noblechairs EPIC Mercedes-AMG Petronas Formula One Team Edition Gaming Chair at a glance
Luxury premium branding reflecting the Mercedes and noblechairs
One of a kind gaming chair that represents the Mercedes AMG Petronas Motorsport
Premium aesthetics
Understated neck pillow and F1 theme lumbar cushion
Exquisitely precise 'PETRONAS green' stitching
Carbon effect side bolsters
Adjustable 4D Armrests
MERCEDES PETRONAS DISTINCTION
Inspired by the carbon-look and racy details of the Mercedes-AMG F1 W09 EQ Power+, experience a newly engineered, vegan-friendly, breathable, faux leather Gaming Chair. The hybrid material is UV fade-resistant, tear-proof, durable, abrasion-resistant, hydrolysis resistant, fire-resistant, easy to clean, and worthy of the most committed F1 enthusiasts. Every last detail, down to the Mercedes original supplier matte silver harness holes to the PETRONAS Green stitching and wheel details are precision-set with machined accuracy.
PERFECT, ERGONOMIC REFINEMENT
The premium matt finish, high-end materials, luxurious head, and lumbar support pillows that are included are in perfect alignment with the ergonomic refinement of the finest in gaming chairs. The premium adjustable 4D armrests add to the extra customizable features.
noblechairs are renowned for their timeless aesthetics and attention to detail. The aerodynamic shape and the use of deformation-resistant cold foam upholstery is standard in all models. High-density foam ensures comfort over long periods of prolonged sitting. Users' weight is evenly distributed with firm neck and back support.
As with the very best race car designs, the solid steel frame is at the core of every noblechair. The all-metal frame is covered and completely filled with the dense cold foam upholstery with no uneven spots. This is what lends the EPIC its strong and stable structure. Should additional neck- and lumbar support be required, two removable cushions complete with stitched logos are included.
The integrated rocking mechanism complete with locking function enables users to relax at the perfect angle with the help of a side-mounted lever. This lever allows users to lock the angle between the backrest and the seat pan, meaning that the noblechairs EPIC allows users to find the perfect seated position for maximum relaxation and comfort.
The counterpressure of the rocking mechanism can be dynamically adjusted via a rotary dial on the underside of the seat, and this - when combined with the smooth adjustability of the EPIC - results in unparalleled versatility along with superior ergonomics. This also means it receives official office chair certification in accordance with DIN EN 1335 and ANSI/BIFMA X5.1 2011.
ULTIMATE IN PREMIUM MATERIALS AND CUSTOMIZATION
Practical 11° tilt and swivel function for further adjustments in the seating area. 90° to 135° backrest, durable, height adjustable gas lift, solid machined aluminium five-point base with all-type flooring 60mm smooth, silent nylon-coated polyurethane casters.
Rest assured that the steel core constructed frame padded with cold HIGH DENSITY deform resistant foam ensures support for up to 265lb/120kg. This award-winning chair was made to last to the finish line.
THE HYBRID MATERIAL
The vegan-friendly leather is UV fade-resistant, tear-proof, durable, abrasion-resistant, hydrolysis resistant, fire-resistant, easy to clean.
Most importantly, noblechairs solved the issue of heat and humidity without compromising the beauty of a chair that looks like leather. Our hybrid PU material retains the look, smell, and feel of full-grain leather while also allowing air, heat, and moisture to vaporize. This enables the seat and back area to let skin surfaces stay cool and dry.
4D ARMRESTS
The noblechairs 4D armrests offer maximum adjustability across four directions: horizontally, laterally, vertically (height) along with an adjustable swivel angle. This makes achieving optimal ergonomics in line with your individual desk remarkably easy.
In addition to the variety of configuration options, the comfortably soft polyurethane of the 4D armrests helps ensure long-lasting comfort while working or gaming at the PC.
ROBUST BASE
The silver powder-coated base is manufactured from solid aluminium and this supports a weight of up to 150kg.
With its five arms, the strong, perfectly balanced base allows noblechairs owners to relax and recline the backrest in comfort by up to 135°.
The five quiet-running casters (2.4") with nylon cores and a polyurethane (PU) coating run smoothly and effortlessly over hard- and soft flooring.
Specifications:
Height:
Total height (with base): approx. 129.5 - 139.5 cm
Seat pan height (with base): approx. 48 - 58 cm
Backrest height: approx. 87 cm
Backrest width: approx. 29.5 cm
Backrest width (exterior, widest point): approx. 54.5 cm
Inner seat surface area: approx. 35 cm
Outer seat surface area (widest point): approx. 56 cm
Depth of seating area: approx. 49.5 cm
Total depth (without base): approx. 56.5 cm
Minimum height of armrests: approx. 66.5 cm
Weight:
Approx. 27 kg
Angle of rocking mechanism:
Max. 11°
Material:
Steel (frame)
Cold foam (upholstery)
PU leather (cover)
Aluminium (base)
Nylon / Polyurethane (casters)
Polyurethane (armrests)
Colour:
Black / PETRONAS Green / Silver / White
Maximum load:
150 kg
Manufacturer's guarantee:
2 Years
Certifications:
UK Fire safety compliance: BS 5852
Features:
Premium Mercedes-AMG Petronas Motorsport Design
Practical rocking mechanism
4D-armrest adjustability
Adjustable angle of the backrest (up to 135 degrees)
Versatile seat height
Includes pillow for lumbar support and neck
Deformation-resistant cold foam
Safety Class 4 gas lift
Strong 5-point aluminium base
60 mm casters for hard- and soft flooring
Robust steel core construction
More links for

"EPIC Gaming Chair - Mercedes-AMG Petronas Formula One Team - 2021 Edition"
OcUK TV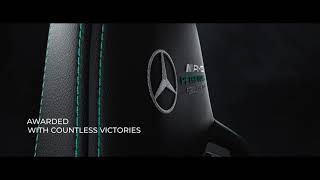 Customers also purchased: