noblechairs


ICON Top Grain Leather Gaming Chair - Midnight Blue/Graphite
Taking the luxury and attention to detail of the noblechairs lineup and blending it with an uncompromising aesthetic - the ICON has a style that embodies the adage that quality speaks for itself.
Stock Code: GC-00N-NC
EAN: 4251442501129
MPN: NBL-ICN-RL-MBG
Manufacturer: noblechairs
Supported by the biggest tech community overclockers.co.uk/forums
Direct Service Hotline
+44 (0)1782 44 44 55
Product information:
ICON Top Grain Leather Gaming Chair - Midnight Blue/Graphite
The name, like the colour, leaves a certain ambiguity in its wake. While Midnight Blue happens to be the traditional alternative to black on tuxedo and tie occasions, the noblechairs ICON Series in Midnight Blue/Graphite draws its name from the colour of the night sky nearing the night of a full moon. This subtle shade of blue is then combined with top grain leather and precise, elegant graphite-grey stitching to leave a lasting impression.
Dynamic Engineering
As the suspension on a sports car contributes to the quality of the ride, the real-world performance of the ICON is decided by its ergonomics. The construction of the ICON series has necessitated an unrelenting level of precision engineering: 4D armrests, 90° to 135° of backrest adjustability, a robust 11° rocking mechanism. The chair is designed to support weight up to 180 kg, and the safety class 4 gas lift supports up to 180 kg. The result of this is an improvement in durability and lifespan as well as a superior sitting experience.
Anatomical Optimisation
While mechanical and material optimisations are key to the performance of the ICON, it is the shape in which they are employed that matters most. The eccentric shape of the ICON and its dimensionally stable cold foam improves ergonomic stability and anatomical compatibility, combining to maximise comfort and minimise pressure on the body over long periods of time. To further customise neck and lumbar support we included two luxuriously embroidered and adjustable pillows, thereby enabling the seat to actively respond to the needs of the user.
Maximised Durability
The foundations of timelessness lie not only in style, but also in durability. That's why the ICON series necessitates nothing less than a solid steel frame ensconced within its highly-resistant and hard-wearing stable cold foam upholstery, the 55% high density of which enables both superior bodily support and an augmented lifespan.
Material Superiority
No mere gaming chair, the interplay of top grain leather and precision manufacturing is what drives the ICON forwards. That's why we rely on supple and luxurious leather and an intelligent blend of perforation and diamond pattern stitching across the contact area to maximise comfort and breathability, allowing you to stay ahead of the competition without breaking a sweat..
Take it to the next level with a noblechairs footrest
Build on the premium comfort offered by noblechairs with a specially crafted footrest. Thanks to the ingenious design they can be adjusted by up to 57 degrees ensuring they match the angle of almost any recliner and designed to complement the EPIC and ICON series. The footrests come in a variety of different materials including leather and 5 luxury colour combinations.
Upgrade your noble experience from only £109.99
---
The noblechairs ICON is the Best Gaming Chair of 2018!
European Hardware Awards 2018
At Computex 2018 in Taipei (Taiwan) noblechairs are proud to have been crowned the winner of the "Best Gaming Chair" category thanks to the prestigious European Hardware Association for the noblechairs ICON Series.

This award and the rest of the award-winning recipients can be viewed here (external link).
Overclockers UK and Caseking would like to extend our congratulations to noblechairs on this well-deserved victory!
---
Specifications
Appearance
Main colour: Midnight Blue
Side strip colour: Midnight Blue
Stitchings colour: Graphite
Pillow colour: Black with Graphite embroidery
Measurements
Total height (with base): ca. 1280 - 1380 cm
Height adjustability: ca. 480 - 580 mm
Width backrest (shoulder level): ca. 390 mm
Width backrest (pelvis level): ca. 520 mm
Width backrest (point of contact): ca. 295 mm
Length backrest: ca. 860 mm
Backrest adjustability (static): 90° - 135°
Width seat (total): ca. 515 mm
Width seat (point of contact): ca. 340 mm
Depth seat (total): ca. 570 mm
Depth seat (point of contact): ca. 490 mm
Width armrests: ca. 100 mm
Depth armrests: ca. 245 mm
Rocking mechanism: max. 11°
Armrests adjustable: Yes (four-dimensional)
Maximum weight (user): 180 kg
Net weight (chair): ca. 28 kg
Gross weight (chair): ca. 30 kg
Package dimensions: ca. 87 * 37 * 70 cm
UK Fire safety compliance: BS 5852
Manufacturer warranty: 2 years
**NOTE: To apply for interest free finance for this product, please check out with this product in your basket and select 10 month interest free finance at the final stage**
1 Month Comfort Guarantee
We are that confident you'll love your new noblechair, in the unlikely event you aren't 100% happy, Overclockers UK will arrange collection of your chair and offer a full refund*.
*Terms and conditions apply
noblechairs Home Installation Service
If your looking for the complete noble experience why not book our premium home installation service? One of our talented engineers will arrive on site, build and even advise on adjusting your new noblechair for optimum comfort.
*Terms and conditions apply
---
More links for

"ICON Top Grain Leather Gaming Chair - Midnight Blue/Graphite"
Free items with this product worth £19.99!
OcUK TV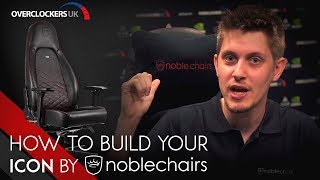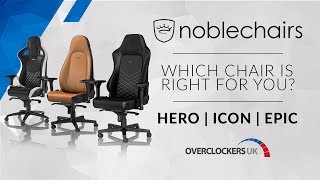 Awards & Media Coverage
"Nominations for this year's European Hardware Awards began in April and, in the weeks that followed, more than 100 of the most experienced editors in the world voted on which products they believed to be the 'Best of the Best' for 2018."

Award

"The noblechairs icon is a comfortable, sophisticated chair but it does come with a premium price tag thanks to the leather upholstery."

Award

"I'm a big fan of noblechairs, and rightly so. They may come at a premium that will have your wallet shaking in a corner. However, cry at the checkout, and sing and dance on delivery day. Once you get the chair built, rolled under your desk, and placed firmly under your backside, all will be forgiven."

Award

"So do yourself a favor and factor in a good, ergonomic chair to your gaming setup budget. The noblechairs ICON Series is certainly not the cheapest out there, but the leather version especially is by far the best I've used."

Award

"It's clear that noblechairs has put a lot of thought and time into designing the Icon gaming chair, and it's certainly paid off, as this is one of the best gaming chairs money can buy."

Award

"From concept to realisation noblechairs has done everything right with their new ICON Series. The ballsy step away from well-tried design affectations and towards a whole new silhouette is a total success: They now serve a broader audience by counting in comfort-lovers as well as gamers with a wider frame."

Award

Custom PC - Premium Grade

"However, the daddy of gaming chairs is undoubtablty noblechairs... The ICON cements noblechairs' position as a maker of premium gaming chairs. It might be expensive, but if you can stretch the price, it's worth every penny."

"Overall, the noblechairs ICON series gaming chair has to be one of the most comfortable and solid chairs I have even sat on. It's so extremely well built that even the Dwarves of Middle-earth would be impressed with the craftsmanship. By keeping the colours to a subtle tone of stitching the chair is very sleek and professional looking great for an office, LAN or home environment."

Award

"There's no doubt that the noblechairs Icon is a premium Gaming Chair; it's beautifully built, it's beautifully made and looks good too. At approximately £330 the Icon is not cheap but then you shouldn't expect it to be, after all quality costs. So then James back to that question; is it worth it? YES."

Award

"The ICON series of chairs is the highest-quality gaming chair I have yet to see. Even the stitching is one of those small details that noblechairs didn't overlook and it accompanies all the other top-quality components perfectly. In terms of raw design, the ICON series will be hard to match."

Award

"...if you want a comfortable chair for working all day at a desk: it's certainly one of the best we've seen yet."

Award

"The ICON provides excellent support for the avid gamer or serious office worker while looking incredibly stylish and fashionable. You get what you pay for with the noblechairs ICON."

Award

"Build quality of the ICON is right up there with the best we have seen, and arguably, THE best we have seen. The materials used, it's construction, and the finish of the chair is all premium. From a comfort point of view, it's an absolute pleasure to sit in."

Award
Customers also purchased: