Razer


Nommo Chroma Full Range 2.0 Gaming Speakers for PC (RZ05-02460100-R3W1)
Razer Nommo Chroma Full Range 2.0 Gaming Speakers for PC
Custom woven glass fiber 3-inch drivers for power and clarity
Rear-facing bass ports for powerful lows
RGB Chroma
Stock Code: SP-04E-RA
EAN: 8886419371557
MPN: RZ05-02460100-R3W1
Manufacturer: Razer
Supported by the biggest tech community forums.overclockers.co.uk
Direct Service Hotline
+44 (0)1782 44 44 55
Product information:
Nommo Chroma Full Range 2.0 Gaming Speakers for PC (RZ05-02460100-R3W1)
FULL RANGE IMMERSION
Powerful audio can completely immerse you in your experience, bringing games, movies and music to life. With optimized drivers built for full range sound and extreme clarity, the Razer Nommo takes you to a new dimension that blurs the line between fiction and reality.
CUSTOM WOVEN GLASS FIBER 3-INCH DRIVERS
Our custom woven glass fiber 3-inch drivers are engineered to deliver ultra-clear sound with uncanny sharpness. By incorporating custom glass fiber into the speaker cones, it affects the vibrations and produces a tighter sound with higher frequencies, allowing you to hear distinct layers and audio details.
REAR-FACING BASS PORTS
Hidden behind the speaker bodies are rear-facing bass ports, each engineered to deliver increased bass output for a fuller, richer range of audio. The bass ports sit inside massive chambers, amplifying the low end to shake your core whether it's a gunshot, right hook or EDM track.
BASS KNOB WITH AUTOMATIC GAIN CONTROL
On the right speaker sits a bass control knob, allowing you to fine-tune the output perfectly—from ground-shaking bass to a low hum for late night sessions. Thanks to automatic gain control, you can also ensure the bass scales distortion-free.
POWERED BY RAZER CHROMA™
Choose from 16.8 million colors and pre-set lighting effects to personalize your listening experience, or take immersive gameplay up a notch with ambient lighting that reacts to your every move.
*Chroma lighting is available for Razer Nommo Chroma only.
Custom Woven Glass Fiber 3 Inch Drivers – For complete audio clarity
Rear-Facing Bass Ports – With increased bass output
Bass Knob with Automatic Gain Control – For ultimate versatility
Suction Equipped Base – for all-round stability
Powered by 3 inch Drivers – for loud, powerful sound.
Gaming-Focused Positional Accuracy – so you never miss a shot.
Easy Access Controls – with a 3.5mm jack and audio controls
Powered by Razer Chroma ™ - with 16.8 million color options.
Tech Specs
2 x 3-inch full range drivers (1 x per speaker)
Frequency response: 50-20,000khz
USB audio (Nommo Chroma Only)
1 x 3.5mm aux input jack
1 x 3.5mm headphone jack
Bass and Volume Control
Chroma enabled (Nommo Chroma Only)
System Requirements
PRODUCT REQUIREMENTS
PC/Mac with a free USB port
RAZER SYNAPSE REQUIREMENTS
Windows®7/Mac OS X 10.9 (or higher)
Internet connection
100 MB of free hard disk space
Package Contents
Razer Nommo Chroma 2.0 gaming speakers
3.5mm audio cable
Power adapter with interchangeable plugs
Important Product Information Guide
More links for

"Nommo Chroma Full Range 2.0 Gaming Speakers for PC (RZ05-02460100-R3W1)"
OcUK TV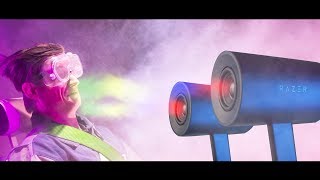 Customers also purchased: