noblechairs


HERO Gaming Chair - Fallout Vault-Tec Edition - Blue/Yellow
Officially licensed Fallout gaming chair by noblechairs
Vault-Tec Blue & Yellow branding
Adjustable lumbar support
60 mm casters
Supports up to 180 kg
Radiation Free!
Stock Code: GC-02D-NC
EAN: 4251442503758
MPN: NBL-HRO-PU-FVT
Manufacturer: noblechairs
Supported by the biggest tech community forums.overclockers.co.uk
Direct Service Hotline
+44 (0)1782 44 44 55
Product information:
HERO Gaming Chair - Fallout Vault-Tec Edition - Blue/Yellow
The HERO Fallout Vault-Tec Edition Gaming Chair
'Prepare for the future' whether you face a post-apocalyptic wasteland or just want to game in comfort
noblechairs has teamed up with the prestigious games development studio, Bethesda Softworks®, to produce the much anticipated and officially licensed gaming chair for the ground-breaking franchise Fallout®.
As the chair is part of the multi-award-winning HERO series it features the same gaming pedigree and a design that utilised extensive input and guidance from Esports professionals. The result: one of the world's most ergonomic, comfortable, and feature-rich gaming chairs ever made.
Taking inspiration from the Fallout series, this special edition HERO chair is upholstered in premium PU leather and pays homage to the famous blue and yellow Vault-Tec colour scheme utilised throughout the game. To compliment yet further, Vault Boy and the Vault-Tec logos have been precision embroidered on both the front and rear of the chair. Make no mistake, this is going to be on every Fallout enthusiast & collectors wishlist!
---
As a huge fan of Fallout and Bethesda's various other properties, it's a dream come true to be able to pair the premium quality and ergonomics of noblechairs with one of the greatest game designers around. Welcome home!
- Glen Rhodes, Senior Product Manager at noblechairs
---
The noblechairs HERO Fallout Vault-Tec Edition Gaming Chair at a Glance:
Fallout themed embroidery on both the front and back of the chair featuring Vault Boy and the Vault-Tec logo, along with the 'Prepare for the Future' tagline from the series
Premium Vault-Tec blue & yellow PU leather upholstery with contrasting white stitching accents
Adjustable lumbar support providing support for your lower back
'Oversized' seat and backrest - optimised for long gaming sessions
Enlarged 4D padded armrests
Luxury memory foam headrest for improved comfort
Embedded with a deluxe cold-foam core for improved ergonomics, durability, comfort, and breathability
Aluminum 5-point base
60 mm castors for hard and soft floors
Suitable for users up to 180kg
Please Note: This special edition does not come with cushions
---
Vault-Tec Approved Comfort!
A premium ergonomic design is what differentiates a good chair from a great chair. This becomes even more apparent when used over extended periods of time. With this in mind, noblechairs built the HERO from the ground up utilising extensive research, ergonomic biomechanical principles, and feedback from Esports professionals, vault dwellers and the gaming community.
Like all of the HERO models that have come before, the Fallout Vault-Tec special edition is extremely comfortable with ergonomic features such as adjustable lumbar support that conforms to the natural curvature of your spine - reducing stress on both the lower back and pelvis. To take this to the next level the HERO utilises breathable deformation-resistant cold foam, large padded 4D armrests plus an 'oversized' backrest and seat that not only suits the larger gamer but offers unparalleled luxury. Become the Overseer of your gaming setup in style!
Premium Design - Precision, Machine-Automated Construction
The HERO offers the same premium-quality workmanship as exhibited in the revered ICON and EPIC series thanks to a state of the art machine-only manufacturing process.

The tubular steel frame of the HERO is welded with the help of robotic arms, similar to what one might expect to see on an automotive production line. This technique produces a flawless and exceptionally durable frame. Even the chairs PU upholstery is tailored by industrial sewing machines to achieve results that Vault-Tec would be proud of.
Premium Components - Radiation Free!
Standing in stark contrast to competing gaming chairs, the HERO is held in high esteem worldwide for its premium materials, solid construction, and unsurpassable levels of comfort. The HERO employs various methods to achieve this including utilising high density, breathable, deformation-resistant cold foam that encompasses a solid steel frame. This is then enveloped in luxury, heavy-duty PU leather upholstery.
---
Endless Adjustability
In addition to the adjustable lumbar support, the HERO can be configured to suit your personal requirements. This is possible thanks to 10 cm of height adjustment, a built-in rocker mechanism, and a backrest that can be adjusted to between 90° and 125°.
4D Pip-Boy Arm Support
The all-new, 'oversized' 4D armrests not only look fantastic but can be adjusted in 4 dimensions. This ensures they can be positioned for maximum comfort and support. To further enhance this, the armrests are upholstered in cold foam and integrate a textured contact area that improves grip.
Suitable for Fallout Shelters Everywhere
The base of the HERO series consists of a 5 point, aluminum powder-coated base, a class 4 gas lift that is rated (in combination with the base) for maximum loads of up to 180 kg and 60 mm casters. These specially designed casters ensure whisper-quiet operation and are suitable for use on almost any surface owing to the nylon core and polyurethane coating.
---
Upgrade Your Vault with Premium Accessories from noblechairs!
noblechairs are unquestionably comfortable and deliver a luxurious experience straight out of the box. With this said, there's only one way to improve on perfection: the addition of premium accessories directly from noblechairs.

In order to adapt the gaming chair to the exact requirements of the user, noblechairs also offers practical 60 mm hard floor casters with automatic braking, bringing to an end any unwanted sliding either forwards or backward during use. Additionally, shorter gas lifts allow for a reduced seat height to ensure smaller users also enjoy optimal comfort.
---
Maximise Comfort While Optimising Your Posture!
The comfort offered by noblechairs is well established, but investing in ergonomic accessories is not just a sensible idea, it's a way of taking pre-emptive action against the negative side-effects associated with a poor posture. In bringing the noblechairs footrest to market, the noblechairs team has developed just such an accessory.

The noblechairs footrest not only maximises comfort but increases overall ergonomics and helps maintain circulation. In minimising the load placed on the feet and back, the footrest makes a significant contribution to a natural and healthy posture. Benefits to your posture and comfort aside, the aesthetics of the footrest are nothing less than stellar given the stunning craftsmanship and the choice of materials that went into making this premium accessory.
---
Keep Your Gaming Throne in Perfect Condition!
The noblechairs premium care and cleaning pack for real and PU leather chairs doesn't just assist owners of noblechairs in keeping their prized noblechairs clean but keeps them looking brand new and smelling factory-fresh for longer. To this end, the set includes two care products, one for cleaning and the other for applying a protective layer that simultaneously refreshes that distinctive smell of premium quality leather.

Packaged in attractive-looking bottles with pump dispensers, the noblechairs premium care and cleaning products can be applied via the included microfiber cloths and premium polishing sponge. The cleaning products come packaged together in high-quality packaging, the likes of which owners everywhere have come to associate with the noblechairs brand.
---
Take Comfort to The Next Level
Every gaming chair deserves cushions, and none more so than noblechairs - that's why noblechairs has released its own, branded premium quality cushions with memory foam. Offering improved neck and lumbar support, these cushions support and encourage a more natural posture while making the gaming chairs even more comfortable than they already are. Thanks to their exceptional flexibility and adjustability, the cushions can be placed exactly where they're needed for maximum comfort.
---
Technical Details:
Height Specification:
Total Height (with base): ca. 129 - 137 cm
Seat Pan Height (with base): ca. 48 - 58 cm
Backrest Height: ca. 89 cm
Inner Backrest Width: ca. 32,5 cm
Outer Backrest Width (widest point): ca. 57 cm
Inner Seat Surface Area: ca. 35 cm
Outer Seat Surface Area (widest point): ca. 52 cm
Depth of Seating Area: ca. 50 cm
Total Depth (without base): ca. 55 cm
Armrest Width: ca. 10,5 cm
Armrest Depth: ca. 27 cm
Weight:
ca. 28 kg
Rocking Mechanism Adjustment:
max. 11°
Backrest Angle:
90° to 125°
Material:
Steel (frame)
Cold foam (upholstery)
Shape Memory Polymer (head support)
PU Leather (cover -> seat + contact area + reverse)
Aluminium (base)
Nylon / Polyurethane (casters)
Polyurethane (armrests)
Colour:
Blue & Yellow with a special edition Fallout Vault-Tec themed design
Maximum recommended user weight: 150kg (Maximum weight supported: 180kg)
Manufacturer's Guarantee:
2 Years
Features:
Integrated lumbar support for lower back
4D Armrests with maximum adjustability
Adjustable backrest angle (90 to 125 degrees)
Flexible seat surface area
Deformation-resistant cold foam
Memory foam in the headrest
Durable gas lift (Safety Class 4)
Strong 5-point base in solid aluminium
60 mm casters for hard- and soft floors
Solid steel frame
Supports up to 180kg
1 Month Comfort Guarantee
We are that confident you'll love your new noblechair, in the unlikely event you aren't 100% happy, Overclockers UK will arrange collection of your chair and offer a full refund*.
*Terms and conditions apply
noblechairs Home Installation Service
If your looking for the complete noble experience why not book our premium home installation service? One of our talented engineers will arrive on site, build and even advise on adjusting your new noblechair for optimum comfort.
*Terms and conditions apply
More links for

"HERO Gaming Chair - Fallout Vault-Tec Edition - Blue/Yellow"
OcUK TV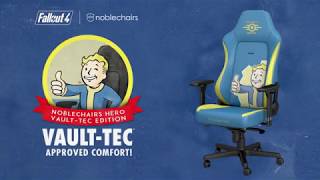 Customers also purchased: